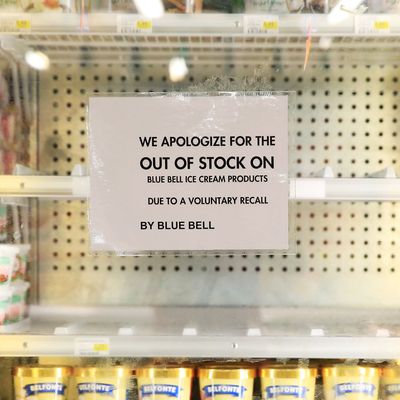 Blue Bell issued a total recall over listeria concerns.
Photo: Jamie Squire/Getty Images
In response to a series of food-borne illness outbreaks that have occurred over the last several years, the FDA has released new, stricter rules for food manufacturers that focus on prevention. During this year alone, Amy's Kitchen, Blue Bell, and Jeni's Splendid Ice Cream issued recalls in response to listeria concerns or outbreaks, massive amounts of mac and cheese and bread were recalled for potentially containing inedible objects like metal and glass, and, most recently, a salmonella outbreak was linked to cucumbers.
From the looks of it, the federal government is cracking the whip on food safety. In July, federal officials unexpectedly recommended a life sentence for a Georgia peanut company executive for one of the country's worst salmonella outbreaks, which caused 714 people to become ill in 2008 and 2009. That recommendation was unprecedented for a food-safety crime.
FDA Deputy Commissioner of Foods Michael Taylor says the rules are the most significant overhaul since the federal government first enacted food-safety laws with the Pure Food and Drug Act way back in 1906. Larger companies will be the first to be impacted, starting in September 2016, and Taylor says they expect the rules to be fully in place by late summer 2018. Some 48 million people, according to the Centers for Disease Control and Prevention, are affected by food-borne illnesses every year, and the FDA wants to cut down that number significantly.