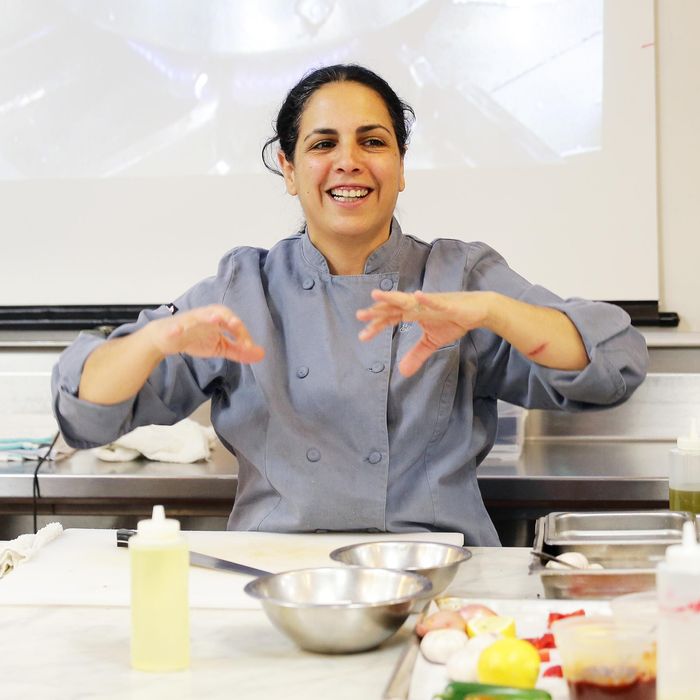 Admony.
Photo: Neilson Barnard/Getty Images
Thus far, chef Einat Admony has made her mark in New York by celebrating Middle Eastern street food (at her Taïm falafel joints and food truck) and New Israeli cuisine at Balaboosta and Bar Bolonat. This November, on a Soho corner previously occupied by the Mexican-Japanese conveyor-belt-sushi spot Taka Taka, Admony and her husband and partner, Stefan Nafziger, will expand their horizons with a new restaurant fusing Spanish and Israeli flavors and techniques.
This shouldn't come as a complete surprise considering Admony's eclectic background. She's cooked at Bolo and Patria, after all, not to mention Tabla and Danube. At Combina, which means "combines" in Spanish and "a creative solution" in Hebrew, according to Admony, she will collaborate with Bar Bolonat executive chef Molly Breidenthal on the small-plates menu, which includes dishes like eggplant escabèche with dill-garlic yogurt, squash with peanut picada, and salt-cod doughnuts served with aïoli seasoned with the Yemeni spice blend hawaij.
330 West Broadway, at Grand St.; no phone yet