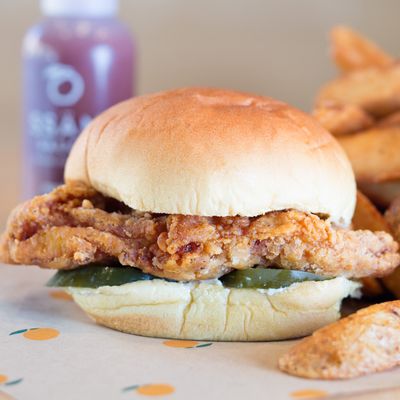 Beyond fried chicken.
Photo: Gabriele Stabile
Continuing the trend of underhyped openings, David Chang has surprised everyone by opening a second, big-brother outpost of Fuku today. Called Fuku+, it's in the midtown Chambers Hotel space (at 15 West 56th Street) that previously housed the Má Pêche Balcony Bar, and it offers a much larger menu than the East Village original.Chang and his team will serve dishes like fried-chicken bites "with JD sauce," salt-and-pepper shrimp, a Sichuan-pork flatbread, and ranch and Oriental salads. While those are sold à la carte for walk-ins on a first come, first served basis, there are also large-format packages, available only if you make a reservation. The power move is to order the $400 Fuku XXL, which feeds four to eight guests and includes the signature spicy fried-chicken sandwich, slow-roasted pork butt, fried short ribs, Sichuan-pork bread balls, salt-and-pepper shrimp, French fries, the Fuku+ salad, daikon slaw, biscuits, and Milk Bar confetti cookies. The restaurant's open daily for both lunch and dinner.
Per the Momofuku rep, "We've always wanted to offer more on the menu at 163 First Ave., but haven't had the capacity to do so. With the space at Fuku+, we will be able to debut and test new offerings."
And remember: Chang still has a mysterious Momofuku Chelsea project up his sleeve, too. Nationwide Fuku domination might be happening sooner rather than later.