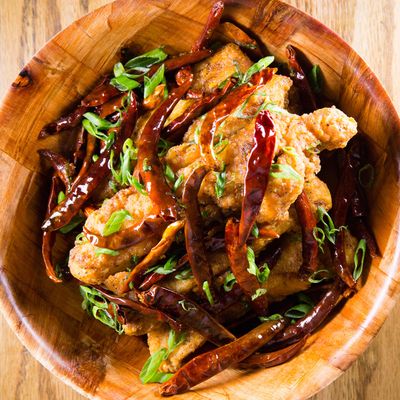 Here they are.
Photo: Gabriele Stabile
Just as the run of his collaborative toast with Daniel Humm is coming to an end, David Chang has announced a partnership with Danny Bowien: Fuku Fingers, which are, of course, chicken fingers.
Mission Cantina will exclusively sell the Fuku Finger Crunchy Wrap ($13, with $1 donated to Edible Schoolyard NYC). It's made of shredded pepper-jack cheese, Russ & Daughters salmon-skin chicharrón, smoked habanero honey, lettuce, tomato, jalapeño pickles, and buttermilk dressing, all built around a crunchy corn tostada, wrapped in a flour tortilla, and griddled.
And Fuku+ will offer the Mission Chinese Fuku Fingers ($16, with another $1 going to Edible Schoolyard): Fuku Fingers — the first white-meat offering from Fuku — tossed with Mission Chinese's Chongqing spice blend, chili oil, and sliced scallions, and then topped with fried chilies.
"The collaboration came together really seamlessly," Bowien says, "Dave reached out and asked if we wanted to work together on a Fuku Fingers dish … It seemed like a natural fit because, at the end of the day, we both want to serve something simple — this is the type of food we both want to eat."
Will these be the best chicken fingers ever?