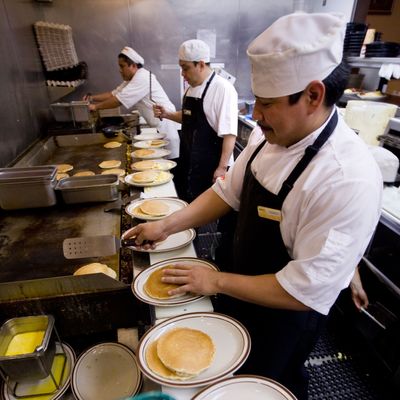 It's not easy.
Photo: Kim Komenich/San Francisco Chronicle/Corbis
According to new reports, the onion-chopping preppers and burger-patty grillers of America are suffering most from declining real wages. Real wages refers to pay that's adjusted for inflation, and by this measurement, the take-home payments of cooks have fallen by 8.9 percent since 2009. It's the steepest decline among all the large occupations in the lowest-paid segment of the workforce. By comparison, janitors' real wages have shrunk by 6.6 percent, and housecleaners' by 6.1 percent. The Times found a poignant example to hammer this home: an Iraq War vet who worked at KFC as a kid in the '90s making $5.50 an hour, which would now be $8.61, but today is back as a cook at the chain, making $7.25.
More data, gathered by researchers at the left-leaning Economic Policy Institute, further show that wage-earners' productivity has been improving steadily for years now, but (big surprise) the beneficiaries are at the top — the companies themselves, their shareholders, and the top executives.
[NYT]