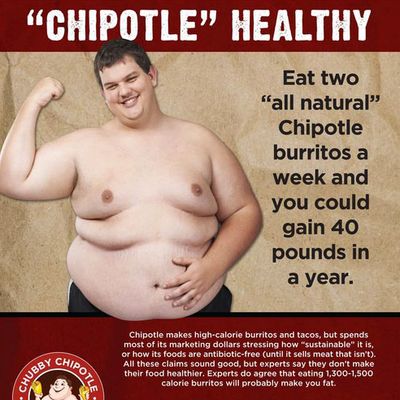 The same lobbyist who argued that Cuomo's $15 fast-food wage unfairly empowers people with "no experience or skills" has found an even bigger source of outrage: Chipotle. The Center for Consumer Freedom, as Richard "Dr. Evil" Berman's group is called, has decided it is vehemently anti-Chipotle because the chain gave up GMOs and antibiotics and feeds people burritos that, if eaten in excess, could make them gain weight. The Chubby Chipotle campaign started with the two Post ads up above, likely inspired by the truth about Chipotle's crazy-high calorie counts.
Yesterday evening, it grew to include a Washington Times Commentary piece by Berman himself explaining his group's "public education campaign." He slams the chain for "ignoring science" and "creating profits while providing angst for consumers" — definitely penetrating words from the guy Big Liquor pays to lobby for less-strict drunk-driving laws.
Chipotle-mania has been getting a little tepid lately, but Berman's attacks have given everyone from the Humane Society to the Food Babe a reason to defend the carnitas purveyor again. "Berman and CCF have refused to say who is funding this campaign, but they almost certainly are factory farming interests" who dislike Chipotle "because it chooses not to sell meat from animals jammed into cages or loaded up with antibiotics," says the Humane Society in a statement. "So much for his defense of the free market."
CCF claims to have, or have had, thousands of donors, including Monsanto, Wendy's, and Tyson Foods, almost all of whom stand to benefit by smearing Chipotle. The group refuses to reveal who's funded the anti-Chipotle campaign, though.