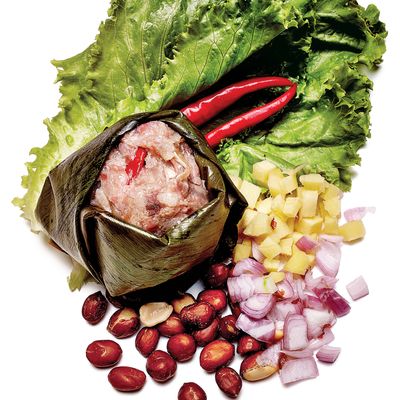 Photo: Bobby Doherty/New York Magazine
After leaving Kao Soy this summer, chef Kanlaya Supachana has resurfaced at a pop-up down the street at Home/Made, whose kitchen she'll borrow for the next few months while hunting for her own place. She'll use the time to serve both authentic Thai plates and more experimental and seasonal meals; her jin som mok is a mix of both. The snack's sold by street vendors and served in homes in Northern Thailand but is a New York rarity — you'd be hard-pressed to find it anywhere else in the city. First pork is fermented with garlic, salt, and steamed rice for four hours, then Supachana adds pig's ears and pork skin and ferments it again. Supachana's partner, Sirichai Sreparplarn, says the dish has been well received — particularly by Thais in Queens, who've written glowing reviews on expat message boards.
Mouse over or tap the image to read more.
On the menu at Chiang Mai Restaurant at Home/Made, $9; 293 Van Brunt St., nr. Pioneer St., Red Hook; 646-858-5185.
*This article appears in the September 21, 2015 issue of New York Magazine.