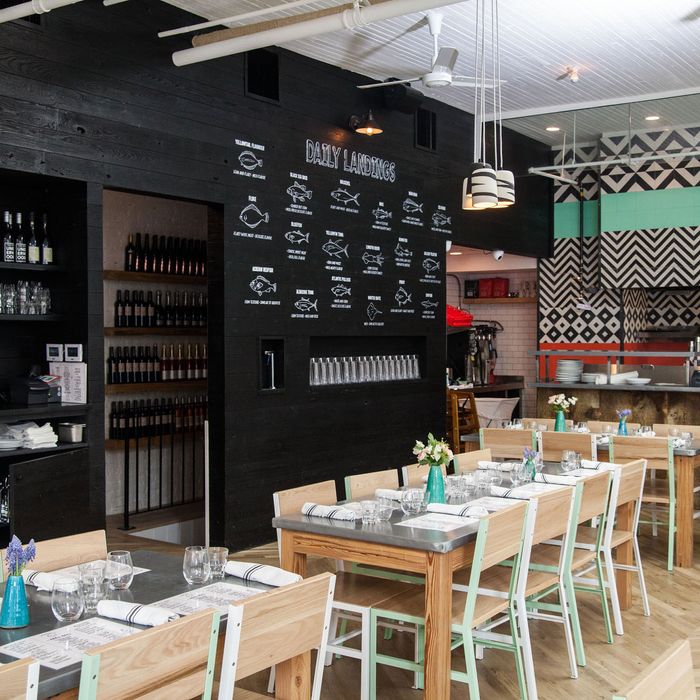 Inside Seamore's.
Photo: Konstantin Sergeyev
The new spot Seamore's manages to perfectly walk the line between being a hot restaurant in downtown Manhattan and a light, airy beach house on the coast: It's colorful while also being clean and sleek; it's open enough that even when it's crowded — which is often — it doesn't feel claustrophobic; and there are personal touches like vintage nautical flags, a Southwestern-inspired mural, photographs of the Montauk lighthouse, and a wall that serves as an illustrated guide to fish varieties and flavors. Credit goes to owner Michael Chernow, of course, but also to two behind-the-scenes players: Sarah Carpenter and Chris Horger, the husband-and-wife team behind a relatively new design firm called Carpenter & Mason.
Though their company is barely a year old, Carpenter and Horger are juggling several high-profile projects: Beyond Seamore's, they've designed Greenpoint Fish & Lobster Co., three new Van Leeuwen shops (Greenpoint, West Village, Williamsburg), and a Motorino outpost in Singapore. They've also signed on to develop a new Bushwick project from the Bunker team, a fish market in Long Island City for the Greenpoint Fish & Lobster Co. owners, a kiosk for Murray's Cheese that will appear in 200 Kroger stores across the country, a butcher shop, and a 5,000-square-foot ice-cream production space for Van Leeuwen.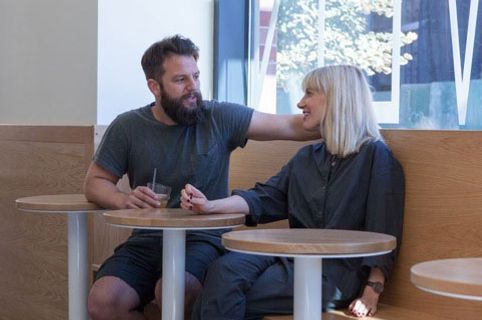 Horger began his career at his father's company, Detroit-based Horger Brother's Masonry (the Mason of Carpenter & Mason), and went on to study architecture and work at Richard H. Lewis. Carpenter's path, meanwhile, was less linear: She worked as an art-gallery director in Berlin, traveled to Beirut to help architect Bernard Khoury with a monograph, and then decided to get her master's in architecture from Columbia University, where she's now an adjunct professor. She also worked at New York firms like Leong Leong and AvroKO.
Carpenter and Horger are happy letting one person naturally take the lead on each project, a system that also appeals to restaurateurs because it means each one knows when it's time to be hands-off. "Every project is not your baby; it's someone else's baby," Horger says. "You're just there to make it happen." Carpenter adds that versatility is key: "I don't know if we really have an aesthetic. We're not super precious about design. We like to meet people where they're at and be onboard with whatever they want. We're not the people who are in this space every day, so it has to come from them."
The couple gives the example of Bunker, which is known for its eclectic, tiki-inspired style (bamboo poles, mismatched plaid tablecloths and chairs, a water cooler, tchotchkes). "We don't want to go in there and un-Bunker it up," Horger says. "We're really happy that [co-owner] Roy [Zapanta] is involved, because I don't think single-handedly we could pull off the Bunker look, which is part of its charm." Carpenter says the strategy is simple: "I think the idea is that we'll give them a pretty clean space, and then Roy will come in and put shit everywhere."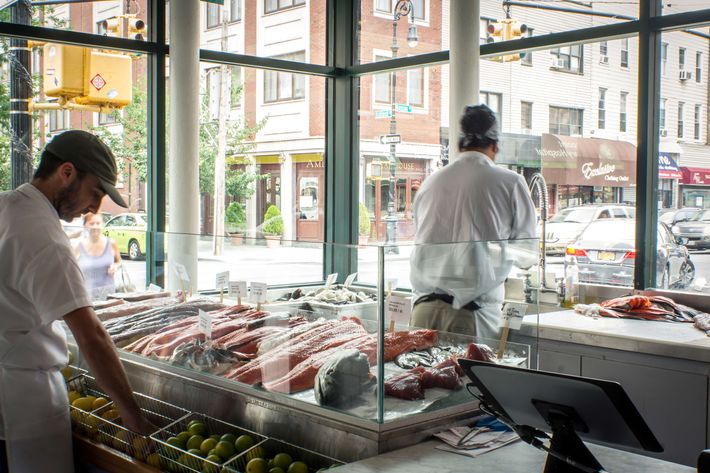 Another reason clients seem pleased is because Horger and Carpenter can work fast. For their first Van Leeuwen project (in Greenpoint), the owners — also friends of the couple — contacted them the last week of November and asked for the shop to be completed by January 1, which is a uniquely tight turnaround time. "We were only two weeks behind their schedule, which was pretty amazing," Carpenter says. And it took them five months, from the commencement of the Seamore's project to opening day, to complete their work: The day that Chernow signed the lease, they put in an application to the Department of Buildings.
The company is still scrappy — Carpenter and Horger just moved into a tiny 200-square-foot office in Crown Heights and hired their first intern — which makes them extremely considerate of budgetary restrictions. "We know the rents that our clients pay for their spaces, so we feel the impact of the schedule," Carpenter explains. "We would never want to spend so much money on a restaurant that the business wasn't viable because of the construction costs."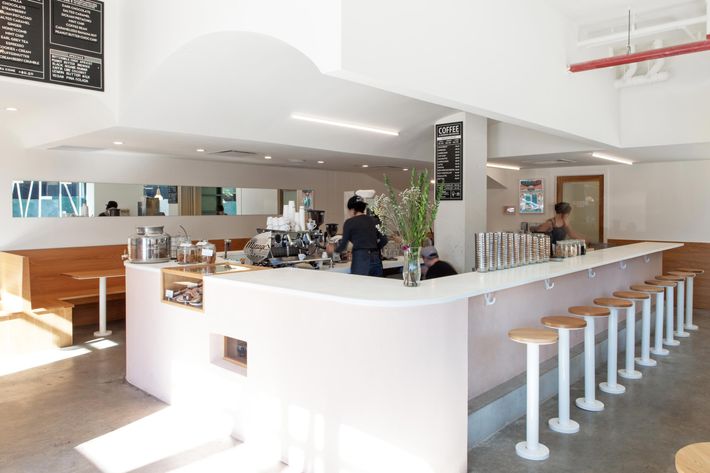 As Carpenter & Mason's profile rises, the projects will undoubtedly scale up, yet the current limitations of working on smaller projects also fuel the creative process. "I'm always thinking about how to use as few materials as possible," Horger says. "It's just the way my mind works in terms of organizing things. Why use 20 materials in a bathroom when you just have to use maybe one or two? It kind of adds up to be a minimalistic approach."
But even though they personally gravitate toward light, clean, and simple designs — a widespread industry shift — Carpenter says, "We would just never be able to tell someone that there's only one right way to do a restaurant." And, Carpenter says, that flexibility means the partnerships rarely encounter any major hurdles: "So far," she says, "at the end of the project, we've still been friends with everyone we worked with."