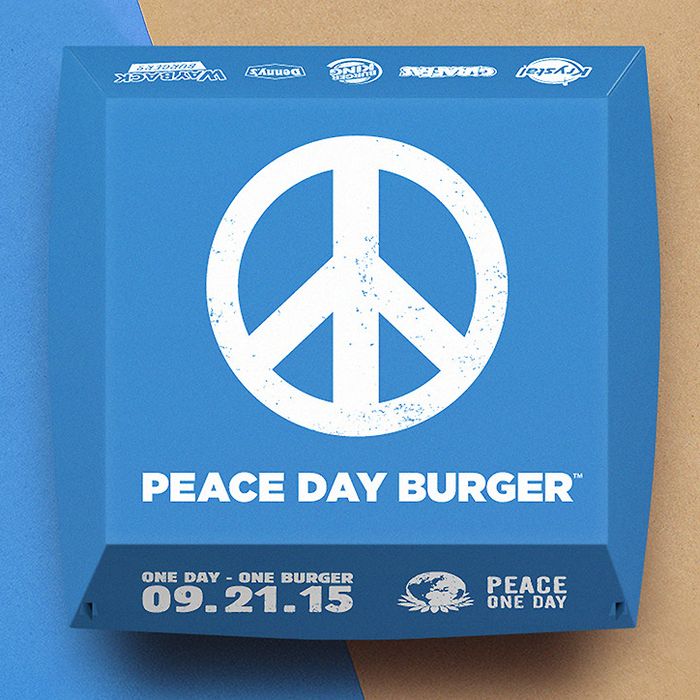 At least it's for a good cause, right?
It's a big win for the comically large group of chains trying to freeload off Burger King's Peace Day mash-up burger idea. After McDonald's turned down the proposal, Burger King swears that an "incredible thing" came from the rejection, which was "a significant number of unexpected responses from other restaurants, large and small." Last night, Burger King put out an open letter to the slew of interested parties, which now includes Denny's, Krystal, Wayback Burgers, and something called Giraffas, which turns out to be a Florida mini-chain of fast-food churrascarias with ten locations:
Naturally, peace is all-inclusive and open to all. So Denny's, Wayback Burgers, Krystal, and Giraffas, we'd like to build on your individual proposals to collaborate on Peace Day, September 21, 2015. Our idea would be that we all come together to create a burger that combines a key ingredient from each of our signature sandwiches.
The "Peace Day Burger," with its boring blue box, seems a little more slapdash than the McWhopper idea, but Burger King says that Atlanta pop-up it planned to use is already under construction, and nobody wants to visit just a normal, one-day-only Burger King whose "coolest" thing going is Fiery Chicken Fries, so they might as well get their money's worth. It took Denny's all of five minutes to say yes: