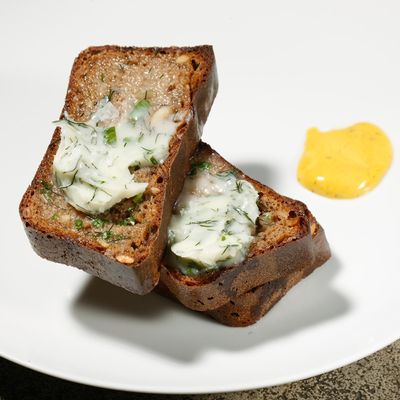 The recipe took almost half a year to develop.
Photo: Melissa Hom
Over the past few years, New York restaurants have been serving higher-quality homemade bread: loaves that are naturally leavened, long-fermented, and chock-full of local grains and seeds. You might not expect a casual pizza place to join the fray, but that's exactly what's happening at Bruno, chefs Justin Slojkowski and Dave Gulino's surprisingly ambitious new East Village restaurant, where the kitchen has come up with a dish that might just be the city's most impressive new bread course.
This bread itself, which will hit the menu on October 1 as a composed $18 dish with fermented Caputo Brothers mozzarella, buttermilk and "ambrosia" honey complex (a mixture of the honey propolis, pollen, and royal jelly), has been in the works since before the restaurant's opening earlier this summer. It's the brainchild of chef de partie Phil Marokus, who previously had no bread-making experience. "After I left my previous job, I had two and a half months before Bruno started up, and I was just super bored," he says. "I'd done a lot of research online and read Tartine Bakery's books to learn about how naturally risen bread works, but this has been a real headache! Why is the bread doing this, and not this? What do I have to fix to make that happen?"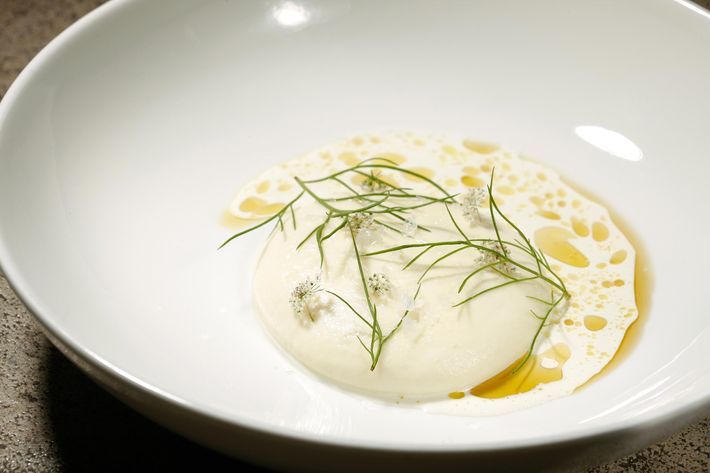 Marokus finally settled on a recipe: He feeds a starter — which is a little less sour than the starter used in Bruno's pizza dough — once a day for two months, then mixes it with water and any seeds and sprouted grains. The exact mix gets changed, and right now he's using pumpkin and sunflower seeds, as well as flax (barley and sprouted greens could work, too).
Marokus lets that sit for 24 hours, until it's fermented further, and adds rye flour, water, and honey, then lets it sit for six more hours — until it's workable dough. Next, the dough sits for another six hours to rise and gets baked in a 320-degree oven for an hour and a half. Finally, Marokus removes it from the bread pan, bakes it another 20 minutes, and lets it rest. "The bread is honestly better the next day," he says. "It has a better texture, and the flavor has almost settled into it."
The dark, seedy bread is rich and satisfying on its own, but Bruno's chefs also serve it with a bone-marrow-and-herb-infused compound butter. They also add pine oil, nasturtium flowers, and Jacobsen salt (and that's before plating it with the cheese). It's a nice accompaniment to vegetable-forward dishes like the fairy-tale-eggplant appetizer with black-cashew paste and blistered shishito peppers (and the pizza with smoked ham, Pawlet cheese, and peaches, for good measure).
"When we started, none of us had any pizza experience," Marokus says. "But making the pizza dough helped me with the bread: I can see how adding more or less water or flour makes an impact. We've all worked together to figure it out."