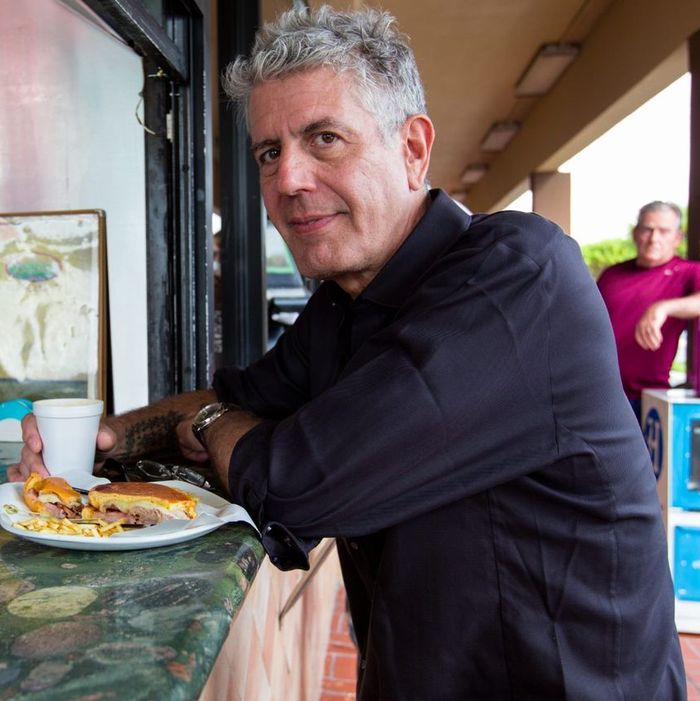 Listen up, Bourdain.
Photo: CNN
Anthony Bourdain's highly anticipated food hall is already poised to be a blockbuster: A massive 155,000-square-foot space that will have a full-service restaurant along with an astounding 100 vendors. Excitingly, Bourdain himself promises that the lineup will be culled not just from New York City but from spots all over the world. And the few vendors that have already been named are very intriguing. Among them, April Bloomfield and Ken Friedman will run two food stalls, Sydney butcher shop Victor Churchill is onboard, there's Geylang Claypot Rice from Singapore, and Ensenada, Mexico–based tostada vendor Sabina Bandera.
The market itself won't open for two more years, and it's safe to assume Bourdain and his team will spend that time tracking down a murderer's row of amazing purveyors to fill the market's stalls. Yet with the lofty ambitions of the market in mind, it's hard not to assemble a dream team of places from around the world that we'd love to see in New York, which is exactly what Grub has done. These 20 spots — some featured previously in Bourdain's shows, some not — are just a start, but they are nevertheless places that should almost certainly be taken into consideration:
Xiao Yang Sheng Jian
From: China
Shanghai's dumpling of choice is the sheng jian bao, i.e., juicy, delicious pork dumplings that are steamed and then pan-fried for a crispy bottom. And this spot serves the version many consider to be the best.
Joe's Kansas City Bar-B-Que
From: Kansas
The string of amazing new barbecue joints in New York largely focuses on Texas-style brisket (no complaints here), so it's about time the city got some burnt ends and ribs from one of the most revered masters from the world capital of slow-cooked meats.
C. Reynon Traiteur
From: France
Residents of this meat-heavy city would no doubt flock to a stand that specializes in the charcuterie of Lyon. And this particular caterer and deli specializes in all things Lyonnais, like duck terrine with pistachio, as well as the beef-and-bacon sausage known as saucisson de Lyon à cuire.
Kesar da Dhaba
From: India
This curry house is the most famous of Punjab's many dhabas, specializing in a variety of vegetarian dishes. Its signature is the dal makhani: black lentils and red kidney beans cooked with butter and cream.
Halil Lahmacun
From: Turkey
Halil is considered one of the top places in Istanbul to get pizzalike lahmacun, a disc of dough topped with minced lamb, ground peppers, and spices that's baked until crispy. It's hard to argue with a combination like that.
Wilensky's Light Lunch
From: Montreal
The Jewish lunch counter is legendary for its special, a grilled beef salami and bologna sandwich served just one way: with mustard on a pressed kaiser roll. If an outpost opened in New York, that sandwich is all they'd need to serve. Really, though, some of the soft drinks — which they actually mix themselves up in Canada — wouldn't hurt.
Yong Kang Beef Noodles
From: Taiwan
For all the great Chinese food in this city, there is little in the way of real Taiwanese cooking, and no bowl of Taiwanese beef noodle soup worth seeking out. A Taipei favorite, Yong Kang's spicy broth, bouncy noodles, and brasied beef will change that.
Anticuchos de la Tía Grima
From: Peru
Owner Grimanesa Vargas's anticuchos — marinated and skewered beef hearts — are so popular the demand at her street cart became too much to bear, forcing her to relocate to a storefront. Grub suggests spreading the wealth and opening another outpost here.
Cafe du Monde
From: New Orleans
The original place is touristy, yes, but its iconic hot beignets in a pile of powdered sugar are world-famous for a reason. It's a true shame that those beautiful little doughnuts, or even the chicory coffee, aren't served here as well.
Big Apple Inn
From: Jackson, Mississippi
The shop — run by the same family for four generations — specializes in the seemingly odd combination of tamales and a signature sandwich made with crunchy pig's ear cooked until tender.
Yu Zhi Lan
From: China
None other than Fuchsia Dunlop, the beloved writer who penned the book on Sichuan food, raved about this restaurant's chef, Lan Guijun, placing him at the forefront of modern Chinese cuisine. He dazzles with noodles and cold appetizers and would no doubt bring some much-needed modernity to New York's Chinese restaurant scene.
Matt's Bar
From: Minneapolis
As one of two places credited with inventing the famed Jucy Lucy — a genius of a burger with a patty that's actually stuffed with molten cheese — Matt's deserves a spot on the big stage. (In fact, why not give a competing stall down the way to the other spot that claims the Lucy as its own, 5-8 Club?)
Fonda Margarita
From: Mexico
If Bourdain Market is truly going to be an all-day destination, it's going to need some serious breakfast. A good call would be this much-loved fonda, which serves up hearty dishes like sausage in salsa verde that draw crowds at unreasonably early hours.
Khao Kha Moo Chang Phueak
From: Thailand
Recognizable by her signature cowboy hat, the proprietor of this stall at the Chang Puak night market serves Pok Pok chef Andy Ricker's favorite plate of khao kha moo, tender stewed pork leg served with rice and a side of hard-boiled egg.
Beryani Haj Mahmood Shafa
From: Iran
Bourdain visited this century-old spot when he filmed Parts Unknown in Iran last year and was blown away by the classic beryani with minced lamb shoulder, tumeric, cinnamon, onion, mint, and saffron.
Jestine's Kitchen
From: Charleston, South Carolina
The much-loved Southern restaurant serves a full menu of classic dishes, like red rice and pecan-fried whiting, but the real reason Grub wants them in New York is to gain easier access to their Coca-Cola cake, made with marshmallows, nuts, cocoa, cream, and cake softened by the namesake soda.
Quimet & Quimet
From: Spain
Bourdain has talked about having a place to eat Spanish ham and drink cava at the market, and considering that this Barcelona spot is a personal favorite of his, it's not too much to hope that they bring their extensive selection of tinned seafood, tapas and montaditos, and vermouth Stateside.
Du Pain et Des Idées Pastries
From: France
Deemed the ideal neighborhood bakery, the boulanger behind the breads here is Christophe Vasseur, whose pastries and loaves — especially the thick-crusted pain des amis — have won him major acclaim.
Bar Mimitsuka
From: Japan
Nothing bearing Bourdain's name is complete without a world-class drinking den. One bartender no doubt fit for the job is Fumiyasu Mimitsuka, whose Bloody Mary — made with nothing but freshly muddled tomato juice, housemade chili oil, French vodka, and a salted rim — was deemed by New York's Adam Platt to be the best in the world.
Antica Corte Pallavicina
From: Italy
Culatello di Zibello is, essentially, the ultimate Italian cured meat — beautiful ham that's slowly aged near the banks of the Po river just outside Parma. This country inn's cellar is loaded with it — and has specific hams set aside for famous chefs like Alain Ducasse and Massimo Bottura — and it really would be nice if, in the two years until Bourdain Market opens, they could figure out a way to get some Stateside as well.