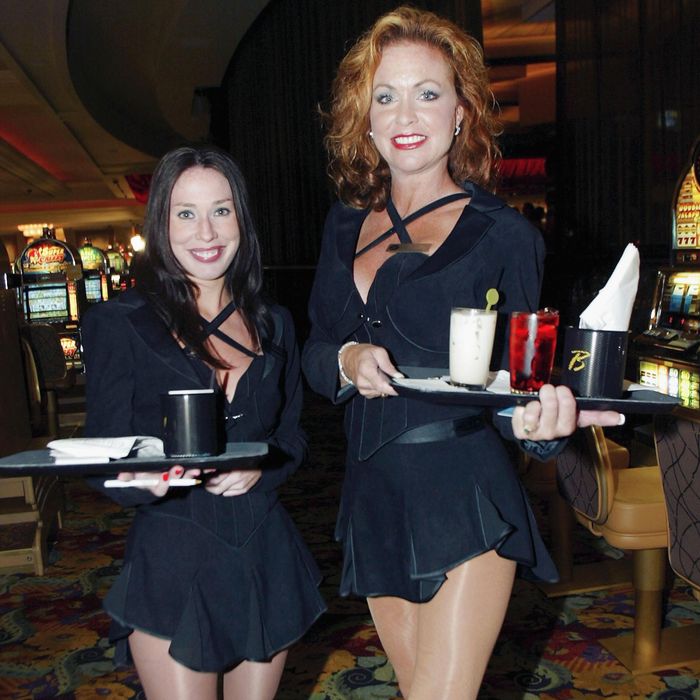 Controversial.
Photo: Don Murray/Getty Images
A New Jersey appeals court has ended, at least for now, the epic legal saga between Atlantic City's Borgata Casino and its cocktail waitresses. The "Borgata Babes," as they're known, first sued the casino in 2008 for gender discrimination, arguing it was illegal for managers to punish them for putting on weight. But the Appellate Division court threw the workers' suit out yesterday by affirming most of the lower court's controversial 2013 ruling.
Babes sign contracts that say if they gain more than 7 percent of their original body weight, they can face discipline, which can take the form of a 90-day suspension without pay, a company-mandated weight-loss program, and job termination. So big surprise, then, that the Babes complained of feeling like "sex objects." In their lawsuit, they say they got punished for eating cookies and were instructed to quit taking prescription meds that cause weight gain, and they argued male Babes (who numbered 46 during that time, versus 646 for females) didn't face any of these consequences.
The lower court has previously ruled: "For the individual labeled a babe to become a sex object requires that person's participation. … Plaintiffs cannot shed the label babe; they embraced it when they went to work for the Borgata." But the Babes did get one victory: The court added that 11 of the 21 plaintiffs may have grounds to sue the Borgata for creating a hostile work environment, especially now that Babe weigh-ins won't be going anywhere for the foreseeable future.