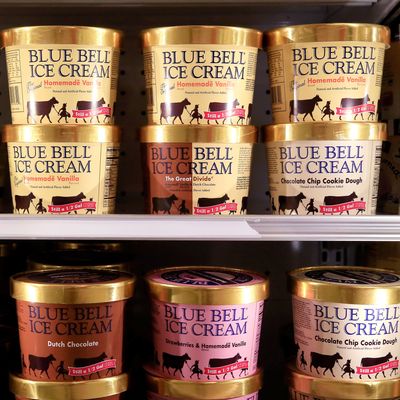 Problematic.
Photo: Jamie Squire/Getty Images
The Houston Chronicle has given everyone their first peek at what Blue Bell workers say factory conditions were like before the massive listeria outbreak, and let's just say this look won't have you reaching for that half-gallon of Cookies 'n Cream. About a dozen employees, most of them granted anonymity, outline some repulsive findings at the main Brenham facility, like "inclusions" (a sludgy goo made of pecan pieces or strawberries) wandering back into clean tanks, and air vents dripping dirty water onto the Fudge Bombstiks. The problems were described as unfixed and chronic up until the April outbreak — the result of trying to ratchet up production to satisfy insane demand. Running the plant "virtually 24/7," workers say, doesn't leave much time for proper cleaning.
Cleanup each day was supposed to follow protocols that employees say were thrown out the window, like removing all of the butterfat, a place where microorganisms can grow, from surfaces. Some workers tell the Chronicle equipment wasn't safe. (Several allegedly "lost parts of one or more fingers.") A crucial part of cleanup involved scrubbing tanks with a caustic detergent called Conquest that's activated by hot water, but workers say they regularly ran out of hot water, calling it "a race for time." Supervisors would allegedly tell workers to wipe off the leaky vent if inspectors were coming, but then the dripping went back to normal onto those Bombstiks.
The 14 employees who spoke, the Chronicle points out, have "a combined 213 years of experience on the production lines." Twelve of them, moreover, add that they complained off and on for more than 15 years about some of these problems.

In response to the story, a Blue Bell rep only offered a one-paragraph reply:
We are a family at Blue Bell and we have always valued all of our employees and want them to feel safe and enjoy working here. Our employees are our company's greatest asset and many have spent their entire careers with us. Workplace safety, sanitation, and employee training remain our highest priorities as we continuously work to improve.