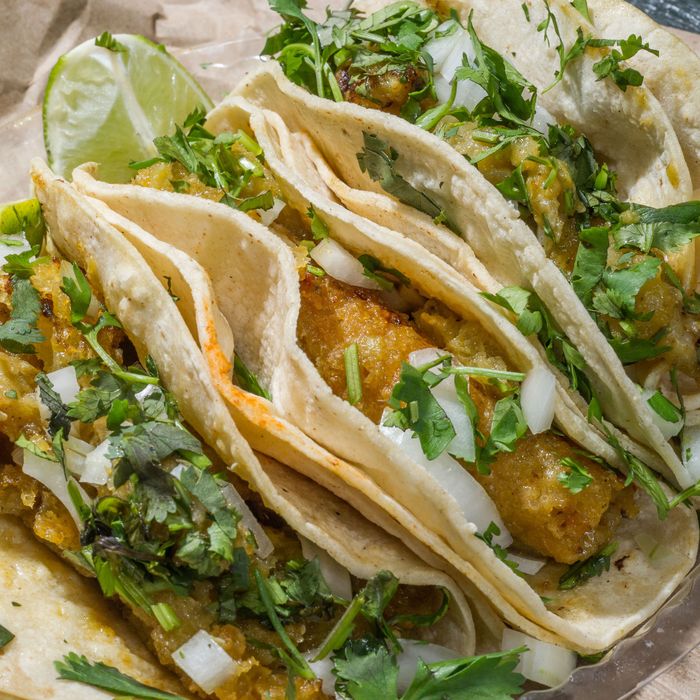 Tehuitzingo's chicharrónes en salsa verde.
Photo: Jed Egan
At one time, the thinking went that New Yorkers looking for a good taco would have to hop on the next plane to Mexico City. Yet, now it's clear that those bad old days are gone, as a boom in housemade masa, waves of newcomers from Puebla and other central Mexican states, and an influx of Cal-Mex spots have all combined to turn New York into a legitimate taco destination. Whether you want DIY duck carnitas to share, a classic al pastor, or any number of high-end reinterpretations, these are the best tacos in town
Cosme (Flatiron District)
Essential Taco: Duck Carnitas ($59)
At Mexico City chef Enrique Olvera's first New York operation, the tortillas are stamped out in the kitchen and made from various single-origin corns; they're good enough to eat alone, and those tortillas come with many of the menu's dishes, though only one (black-garlic-rubbed N.Y. strip steak for $35) is advertised as a taco. For true taco bliss, however, the dish to get is the duck carnitas to share, an elaborate spin on the traditionally pork-based dish that takes four days to cook.
Dorado Tacos (Union Square)
Essential Taco: Baja Original ($3)
The owners of this small, relaxed spot focus mostly on grilled meats and vegetables. Ignore the healthy-ish-sounding offerings in favor of the unexpectedly well-executed Baja California–style tacos, with beer-battered, fried whitefish; cabbage; crema; pickled onions; and salsa fresca.
Empellón Cocina (East Village)
Essential Taco: Large-Format Carnitas, Barbacoa, or Lobster ($42 to $55)
Alex Stupak's tacos at his second Empellón restaurant — the first, of course, is Empellón Taqueria — aren't like any you've had before. The former pastry chef takes a studious approach, putting smart spins on classic styles — subbing out battered white fish for fried smelts in his fish taco — and finding new uses for essential Mexican ingredients, turning pungent papalo into pesto or turning cajeta savory and pairing it with goat. For your best taco time, you'll want to go big with the large-format tacos, like lamb barbacoa with boozy salsa borracha, and pan-roasted lobster.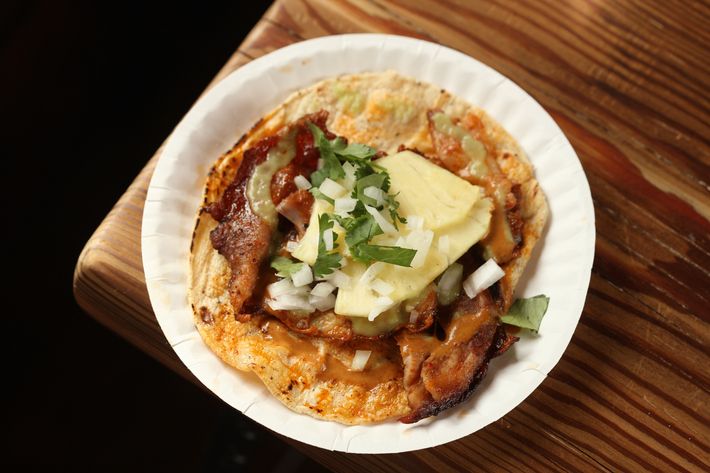 Empellón al Pastor (East Village)
Essential Taco: Al Pastor ($4)
Designed to look like the kind of dive bar that used to pepper the neighborhood, the third member of Stupak's growing Empellón family is one part tortilleria, two parts tequila bar. Even so, it serves up fine examples of tacos de guisados (all $4), like beef, potato and chorizo, and the obsessively re-created al pastor itself.

Fonda (Chelsea, East Village, and Park Slope)
Essential Taco: Taquitos ($9 to $11)
Roberto Santibañez is the Mexico City–bred chef behind this trio of restaurants. He's a street-food evangelist who trained at Paris's lauded Le Cordon Bleu. What that results in is respectfully elevated, thoughtful cooking. Several dishes are served with tortillas, while the "taco" option on the menu is limited to northern-style fish ($9), the taquitos, rolled up and stuffed with your choice of filling (carne asada, al pastor, pulled chicken, or beef tenderloin and bacon), are really what you should focus on.*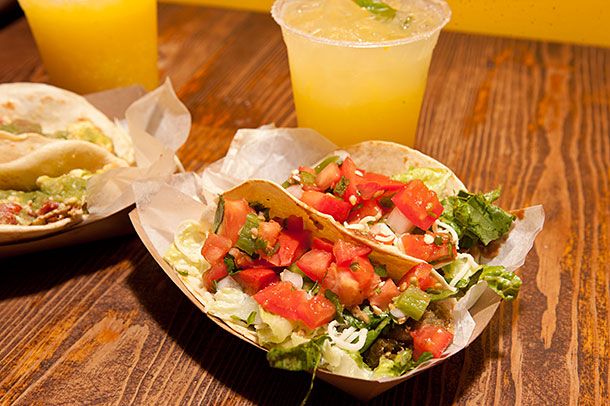 Güeros (Crown Heights)
Essential Taco: Breakfast Taco ($2.50)
Never mind tinga and carne enchilada — it's all about the Tex-Mex at this counter-service cantina. That means cheddar in the brisket tacos ($4.50), crispy shells for the picadillo ($3.50), and, of course, flour tortillas and scrambled eggs for the Austin-style breakfast taco, the ultimate American taco.
Los Tacos No. 1 (Chelsea)
Essential Taco: Adobada ($3.50)
The folks at this Chelsea Market taqueria focus on the Cal-Mex cooking of Southern California. The aesthetic is like a sleeker take on a street stall, and the tacos (available with both corn and flour tortillas) come in just four varieties. That minimalist approach to the menu is an unexpected boon, though, as it allows them to nail what they do best, like the red-chili-and-vinegar-marinated pork preparation known as adobado.
Otto's Tacos (East Village, West Village, and Hell's Kitchen)
Essential Taco: Gorgon ($8)
When Otto Cedeno opened his first East Village shop in November 2013, he found himself at the center of two burgeoning trends: the rise of Cal-Mex and the still-swelling movement toward housemade masa. But Cedeno is no trend-hopper. The regular tacos achieve tortilla transcendence, but the absolute must-get is the gorgon, a deep-fried tortilla that calls to mind San Antonio's obsessed-over puffy taco. The off-menu item is only available during off-hours, but it's worth playing hooky for.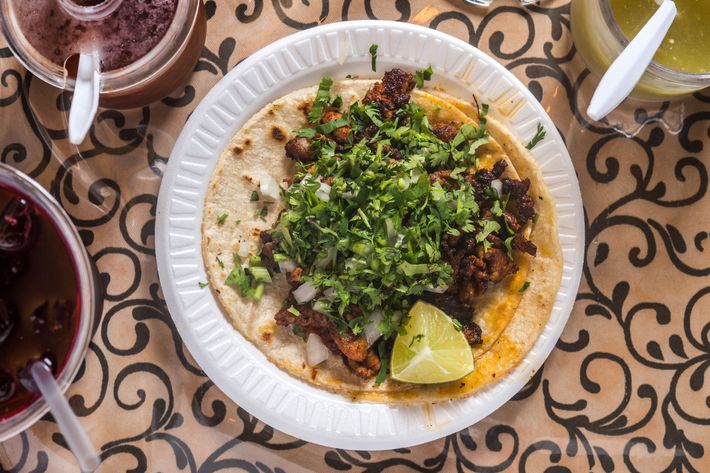 Piaztlan (Red Hook)
Essential Taco: Barbacoa de Chivo ($3)
Latin American vendors have been gathering by the Red Hook Ball Fields since 1971, and though they've battled the city and their numbers have grown smaller over time, there's still excellent eating to be done there. For tacos, though, you'll want to make a beeline to this winner of the inaugural Vendy Award, where they serve top-notch barbacoa de chivo.
Tacombi at Fonda Nolita (Nolita)
Essential Taco: Maiz y Poblano ($4)
The colorful, spunky, and ever-popular taqueria has spawned several follow-up projects (an Eataly-lite market, Café el Presidente; setups in the Gansevoort Market and Montauk; and a forthcoming West Village spinoff focused on the food of the Yucatán). But the place to go is the East Side original, where tacos are dispensed from a retro Volkswagen. There's always a special taco available, and the fish ($4.49) is a solid choice if you're in the area, but have corn two ways instead with roasted maize and strips of poblano chili with salty Chihuahua cheese.
Tacoway Beach (Rockaway)
Essential Taco: Fish ($4)
Rockaway Taco may be no more, so Andrew Field has moved his seasonal operation to the Rockaway Beach Surf Club. Good news, since the surfer dude is New York's reigning king of fish tacos. The other tacos are all well and good, but that perfectly crisp, generously portioned fish, garnished with crunchy cabbage and tangy crema, is really what everyone is here for.

Tacos Matamoros (Sunset Park)
Essential Taco: Chorizo ($2 for small, $3 for large)
Sunset Park is bursting with chorizo hawkers, yet Matamoros makes sure it stands out: The festive, kitschy signage crowding its windows, including a neon taco with a fat jalapeño, guarantees that. Inside, they let the food do most of the talking, offering several well-executed varieties. The exemplary al pastor, cooked on the trompo as it ought to be, gets all the press, but don't pass up on the crispy housemade chorizo.
Taco Mix (East Harlem and Sunset Park)
Essential Taco: Al Pastor ($3)
A street cart slash corner store, this long-standing taqueria has been a neighborhood fixture since 1990 and, along the way, it's become a citywide destination. (In June 2015, they opened a satellite in Industry City Distillery's tasting room.) Arrive for the much-talked-about, much-admired al pastor, a red-hued, thinly sliced beauty that many consider tops in the city.

Taqueria Cocoyoc (Bushwick)
Essential Taco: Carne Enchilada ($3)
Don't mind the fact that the shady dining room is always, it seems, dimly lit, because the service here is sunny, the cooks proficient, and the sauces bright and zingy. It's larger than most of the neighborhood's taquerias, crammed as they are into the backs of grocery stores, and has a congenial neighborhood vibe that makes it feel like the kind of place where you want to hang out. The menu is expansive, but the main draw (along with the weekends-only barbacoa enchilada, $3.25) is the much-touted carne enchilada, crisp, spicy pork painted red with chilies.

Taqueria Izucar (Bushwick)
Essential Taco: Suadero ($1.50)
Bushwick has been undergoing a taqueria boom for years now, and the neighborhood is arguably one of the centers of the city's recent Mexican culinary awakening. Many will insist this shabby spot under the rumbling M train is the neighborhood's finest place for a purist's taco. The ones here are smaller than those at many places, and at $1.50 they're also cheaper, which makes it all the better for sampling the 15 varieties, ranging from the top-notch suadero (braised veal flank marinated in vinegar) to funkier choices (pig's stomach).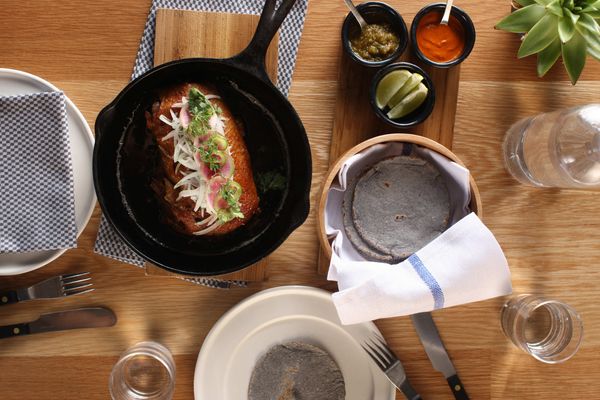 Tehuitzingo Mexican Deli (Hell's Kitchen)
Essential Taco: Chicharrón en Salsa Verde ($3)
Ordinary Mexican grocery stores obscuring standout stealth taco operations are par for the course in New York, and the best of those places tend to be found in neighborhoods like Corona, Sunset Park, or Bushwick. Less common is to find one in Hell's Kitchen, but the tacos here are some of Manhattan's finest. They've since opened a second location, Taqueria Tehuitzingo, nearby on Ninth Avenue, where you'll have more elbow room when scarfing down those tacos.

Taqueria Tlaxcalli (Castle Hill)
Essential Taco: Taco Árabes ($10)
The heart of the Bronx's Bangladeshi community is probably not the first place you'd go sniffing for first-rate Mexican food. But owner Mauricio Gómez, a native of Mexico City, has managed to carve out a place for himself among all those samosas. The tortillas are solid, and the fillings are ample if not all that unexpected. The exception to that rule are the tacos árabes, a special a worker says is "available every other week," which like al pastor is Middle Eastern–Mexican fusion but made with a rolled flour tortilla and pork in chipotle sauce.
Tortas Neza (Corona)
Essential Taco: Carnitas ($2.50)
Yes, the main show is the torta, the famous Mexican sandwich that is served here in various, sometimes-gargantuan renditions named for Mexican soccer teams. But sandwiches aren't everything here, and Galdino "Tortas" Molinero is also a master of the antojitos, masa-based snacks like quesadillas and gorditas, and it shows in his excellent tacos — in particular the killer carnitas. Neza's location has been elusive at times, and after operating a truck in Corona for some time, he's set up shop at Juan Bar Restaurant on Roosevelt Avenue, where he's been since last year.

Tortilleria Nixtamal (Corona)
Essential Taco: Skate ($3)
When it first opened in 2008, Nixtamal was the only commercial producer of fresh masa in town, ending a dark age of nothing but shrink-wrapped tortillas. The owners could've rested on the laurels of the city's freshest tortillas, but they topped their tacos with flavorful, well-seasoned fillings, including a particularly lusted-after fish taco.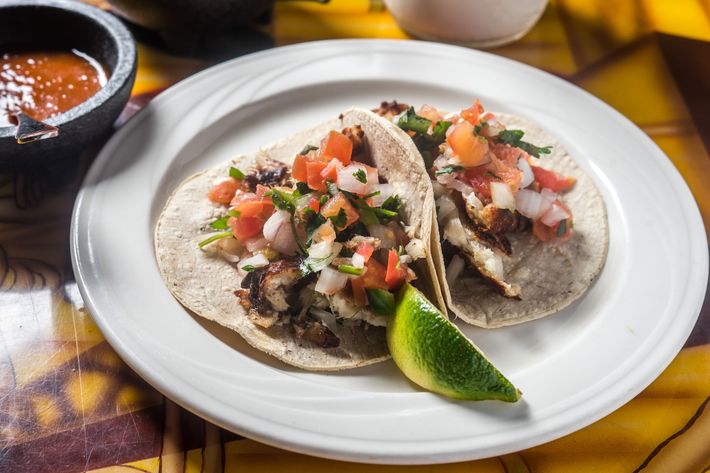 Further Reading
The Taco Is the Burger
The Messy Business of Tacos [Guernica]
How the Authentic Taco Made a Gourmet Comeback [WSJ]
How the Taco Gained in Translation [NYT]
More Restaurant Suggestions From Grub Street
Where to Eat the Best Ramen in NYC
Where to Eat the Best Brunch in NYC
Where to Eat the Best Late-Night Food in NYC
Where to Eat the Best Sushi in NYC
These Are the Best Date Restaurants in New York
The Best NYC Restaurants for Groups
Where To Drink the Best Coffee in NYC
These Are New York's Best Bars for Cocktails
Where to Eat the Best Steaks in NYC
*This posted has been edited to better clarify the menu offerings at Fonda.