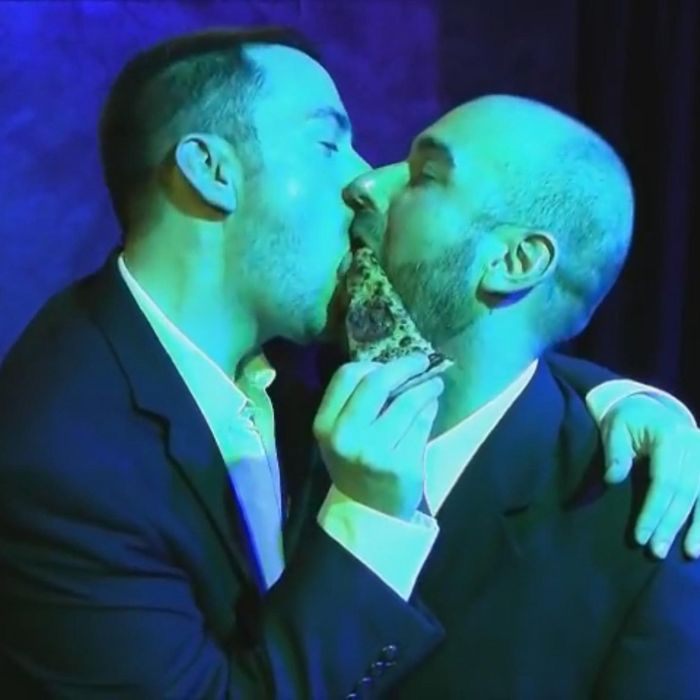 The tiny Indiana pizzeria that boldly refused to cater any gay weddings, scoring it several weeks of headlines earlier this year, is back again — only this time, remarkably, it's not because of anything its owners, the O'Connor family, said. Memories Pizza has fallen back into near-obscurity, but a few gay pranksters — Robin Trevino, from the Chicago comedy troupe GayCo Productions, and Jason Delgatto — still thought it'd be funny if the pizzeria ended up catering its very first same-sex wedding completely unwittingly.
Trevino drove from Chicago to the Indiana town of Walkerton (population 2,248) to pick up the pizzas in person, wearing a hidden camera and speaking as "straight and confident" as possible lest their cover be blown. The whole operation was only half-serious, but they couldn't have planned it better: Trevino's order for two pizzas was filled by Crystal O'Connor, the person who made the original fateful comment that "If a gay couple came in and wanted us to provide pizzas for their wedding, we would have to say no." At the end of the ceremony, Trevino hoisted the boxes and announced, "Memories Pizza just catered a gay wedding!"
In actuality, Trevino and Delgatto have been married for a while — this was just them renewing their vows, so Memories got tricked into catering "a wedding" more than a wedding. Regardless, it's probably safe to assume the O'Connors aren't going to appreciate that semantic technicality.
[GayCo Productions/YouTube via Mic]