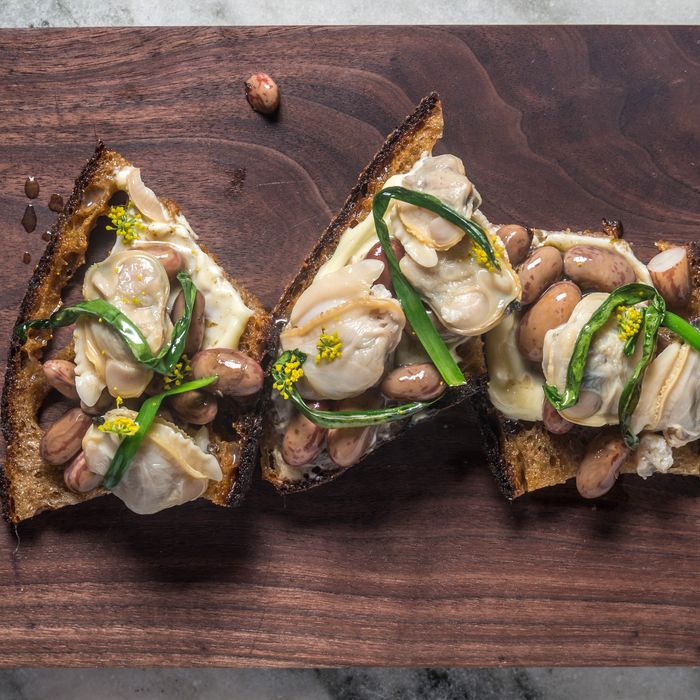 Steamed clams and shell beans served on fried toast.
Photo: Paul Wagtouicz
When Brooklyn restaurateur Andrew Tarlow first opened his nautically inspired Greenpoint bar Achilles Heel, he envisioned it as a place to get a drink, along with products from Marlow & Daughters and She Wolf Bakery. But two and a half years into its run, that's changing. First the sandwiches mysteriously disappeared, and then, more recently, the menu was given a full overhaul. The chef behind the shift is Lee Desrosiers, a former sous at Diner and Marlow & Sons who has also worked at San Francisco's Bar Tartine and helped open Beach Plum in Martha's Vineyard.
Restaurants masquerading as bars have swept New York, but what passes for the "kitchen" at Achilles Heel is nothing more than a pair of induction burners. It's a setup similar to the one Bruno chefs Justin Slojkowski and Dave Gulino worked with at the café Box Kite. Even still: Desrosiers spent the last five months creating his pantry and figuring out how to embrace these limitations. "You have to be very thoughtful about what you're going to cook or not cook," he says. What that translates to is a lot of gentler cooking methods, like poaching a fish filet instead of searing it to avoid fumes, and extracting flavor without heat. Scraps are big (beef tendon is collected from other Tarlow establishments), hot sauces are made, and Maine seaweed is deployed with abandon.
As at Tarlow's other spots, the menu won't be fixed, though the lightness of Derosiers's cooking will be a constant — so don't expect a chef-y take on Buffalo wings. So far there's been sea laver bread made by mixing nori into sourdough starter; beef tendon boiled for five hours, frozen in sheets, and sliced into noodlelike strands; and a very good beef tartare made by curing Merlot steak in kombu seaweed.
More ambitiously, Derosiers will serve an "omakase" dinner, the price of which will fluctuate with the ingredients and courses (usually four or five, likely from $45 to $65), Tuesdays through Fridays. But don't think this means formal dining: Achilles is still a bar, and though they're figuring out exactly how all of this will work, there will still be DJs some nights, and service will be relaxed.