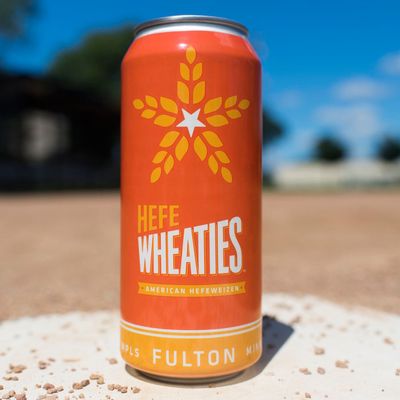 Finally, a real breakfast of champions.
Photo: General Mills
General Mills and fellow Minneapolitan Fulton Beer, a craft brewer, have teamed up with the goal of returning America to its sloshier early days, when beer was still served at breakfast. Theirs will be the first beer officially sanctioned by a cereal that Grub is aware of, but there are no Wheaties in HefeWheaties. "Wheaties is not actually in the beer," the official announcement on General Mills' blog warns. Or at least not technically, because — in case you didn't see this one coming — HefeWheaties is a Hefeweizen, so it definitely has the essence of Wheaties — that is, lots of wheat grain (call it "pre-Wheaties," if you want).
Fulton rounds the style out with malted barley and hops from Germany, America, and Australia, and the "collaboration" part seems to kick in with the brew's 16-ounce tall boys, which clearly evoke a Wheaties box. It's going to have a pretty limited run, only at the Fulton taproom starting August 26, and then as four-packs in the Twin Cities area until it runs out, which could set off a mad rush. Good thing there's a cereal that instills that kind of athletic prowess.
[AdAge]