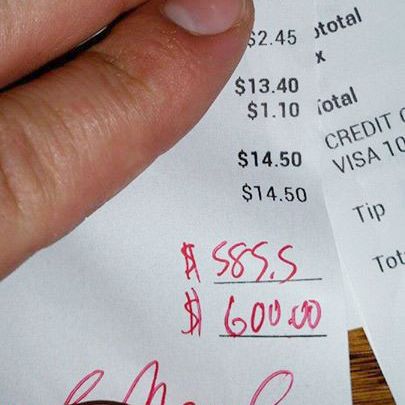 Jackpot.
Photo: Courtesy of House of JuJu
Thankfully a new reason to hold off on despairing for humankind, if that's your thing: An anonymous customer at the House of Juju in Clovis, California, gave a baller 4,000 percent tip on his $14.50 burger and soda last week. The man paid by credit card and on the tip line wrote in the much-too-large number $585.50, an amount that made Justin Glenn, the server, briefly question his elementary-school math skills: "I just didn't think it was real. I looked down thinking it was 58 cents, and then it was 'OK, maybe it's 58 dollars,' and … no, $600 was the total."
Glenn says "the crazy thing" is that the megatipper was at a table of nine, and nobody looked older than 25. Like a bunch of twenty-somethings, they also all requested separate checks when they finished, maybe justifying that giant tip slightly more. Glenn took the karmic hint though and dutifully split the almost six Benjamins with his eight co-workers like he would any other tip, coming to about $73 apiece.