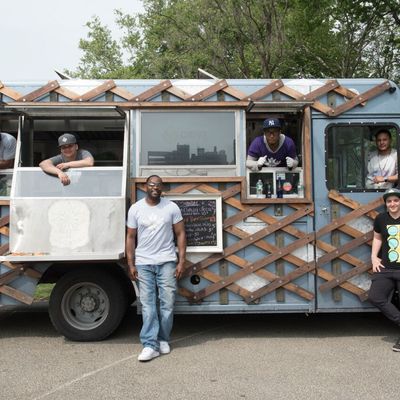 2014 Rookie of the Year Snowday Food Truck is now competing for the top prize.
Photo: Courtesy of Vendy Awards
The ballots are in and the Vendy Awards has announced its nominees for the most coveted prize at this year's annual awards: the Vendy Cup. Past winners of the award have included New York street-food classics El Omega and Piatzlan Authentic Mexican Food, and this year's crop of vendors draws heavily on established names in the street-food game.
This year's fearsome five are Sunset Park rice roll-er Guandong Cheong Fun, 2014 Rookie of the Year Snowday, Astoria legend Souvlaki Lady, Manhattan's Biryani House, and Mill Basin's Hard Times Sundaes, one of New York's best new cheap eats. The competitors will duke it out on Saturday September 12, on Governors Island, and you can get your tickets right here.