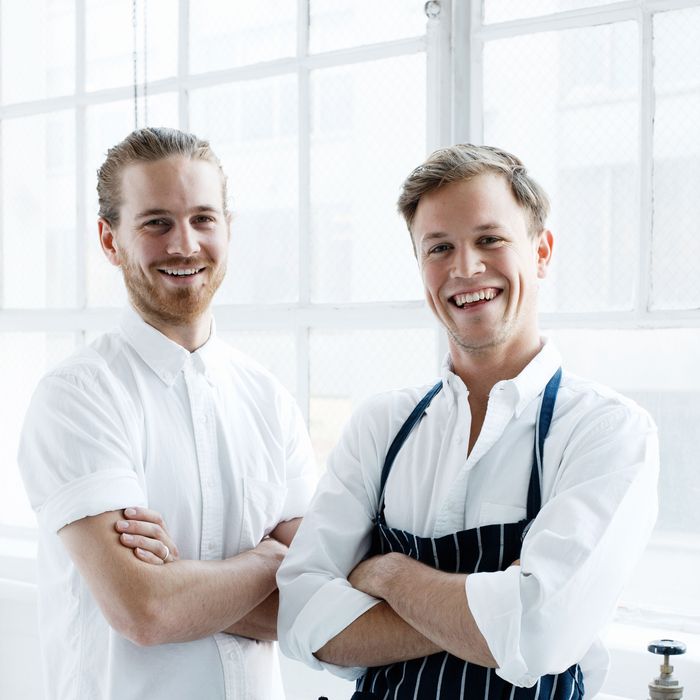 Owners Giles Russell and Henry Roberts are Aussie expats.
Photo: Josephine Rozman
It's only been one year since Aussie expats Giles Russell and Henry Roberts opened Two Hands, their coffee shop on the border between Little Italy and Chinatown, but they've cultivated a true sense of community — and helped pioneer a new design aesthetic. For their much-anticipated second act, Russell and Roberts are expanding on their successful bright, beachy concept, and opening a full-service, all-day restaurant in Tribeca.
The newest Two Hands — scheduled to open in October at 251 Church Street — will have a proper chef: Frankie Cox, a 27-year-old Melbourne native who's worked at Navy and Montmartre. She started as a Two Hands regular, helping Russell and Roberts (who had no professional cooking experience) build out their food menu, which they made on two small electric cooktops. On Church, there will be a complete kitchen, with gas. "We want to take what we're doing at Mott Street and kick it up a notch," Russell says. "Australian food is so varied, with many influences and styles, and she's probably the best person that we could think of to really express it."
The restaurant will seat 50 people, and at night the espresso bar will transform into a cocktail bar, and there'll be a chef's table with views of the kitchen. The breakfast, lunch, and dinner menus are all vegetable-forward, but not strictly vegetarian. "I go to health restaurants, and see those little acronyms marking what's gluten-free or vegan, and that's too much," he says. "Food shouldn't be about what's missing." There will also be a few Australian-style meat plates, and Russell says that he has a few ideas for the ever-controversial Australian-style burger.
So why, of all places, did Russell and Roberts settle on a commercial, industrial stretch of Church Street? "West Broadway is full of all these amazing restaurants, and Church is just empty," Russell says. "I was thinking to myself, Why aren't there any options up here? I feel like west of West Broadway has really blown up, but come south of Canal and Church, it's a little bit dire." The new Two Hands will be light and open like the original, and the driving aesthetic is: "What if Tribeca was on the beach?"
Overall, Russell and Roberts want to build upon the laid-back lifestyle they've cultivated on Mott Street — which makes New Yorkers feel like they've escaped the city and are on holiday. "The reason we opened Two Hands is so our new friends and old friends could all just hang out and have a coffee, and feel no pressure — a place where you can come as you are and do what you want," Russells says. "This will hopefully be the same, with just a few more people, and some more food and cocktails. It's a natural progression. We feel like we have more to say."