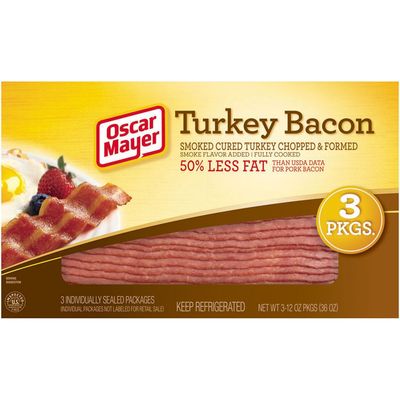 Probably best to avoid this even more than usual these days.
Photo: Oscar Mayer
The megahuge Kraft Heinz Company has recalled 2,068,467 pounds of Oscar Mayer turkey bacon following consumer complaints over spoilage and reports of illness after eating the product. The company believes that some of the alt-bacon, sold nationwide, as well as in the Bahamas and St. Martin, may be adulterated and, consequently, spoil before the "best used by" date indicated on the packaging.
According to an alert released on the USDA website, the turkey bacon in question includes Oscar Mayer's Selects Uncured Turkey Bacon and Smoked Cured Turkey Chopped and Formed produced between May 31 and August 6, 2015. Fans may just have to revert to real bacon until this whole thing blows over.
[CBS]