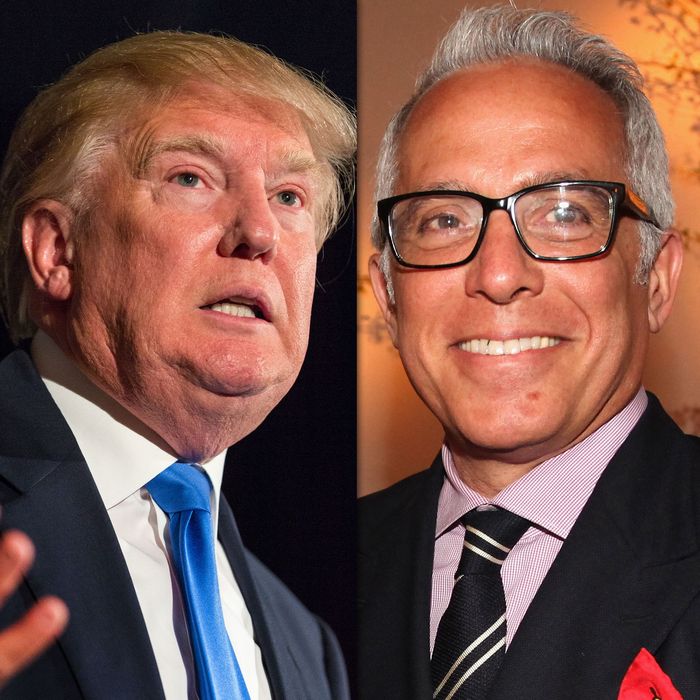 The Donald will not abide.
Photo: Richard Ellis/Getty Images; Donald Bowers/Getty Images
Just days after filing a lawsuit against José Andrés's ThinkFoodGroup, the Trump Organization has sued celebrity chef Geoffrey Zakarian for dropping out of its new Trump International Hotel in Washington, D.C. Before bailing on the project, Zakarian was set to open his first restaurant in D.C, a branch of the National, but forfeited his $500,000 deposit and wiped his hands clean of the Donald on July 9, following the presidential candidate's racist remarks regarding Mexican immigrants.
At the time, Zakarian released a statement citing his heavily-Latino staff and his family's immigrant history as reasons why he was abandoning the gig. Trump's team responded with bluster, releasing a statement questioning Zakarian's purported values: "We know Geoffrey Zakarian very well, and this decision has absolutely nothing to do with his 'core values' … Zakarian's foolish decision will be his loss and will have no effect on the completion and success of this project."
Now Trump is trying to really make this Zakarian's loss: In a complaint filed in the District of Columbia Superior Court, the organization argues that Zakarian committed "a breach of conduct" and is asking for damages " to be proven at trial but currently estimated in excess of $10 million." No word from Zakarian yet.