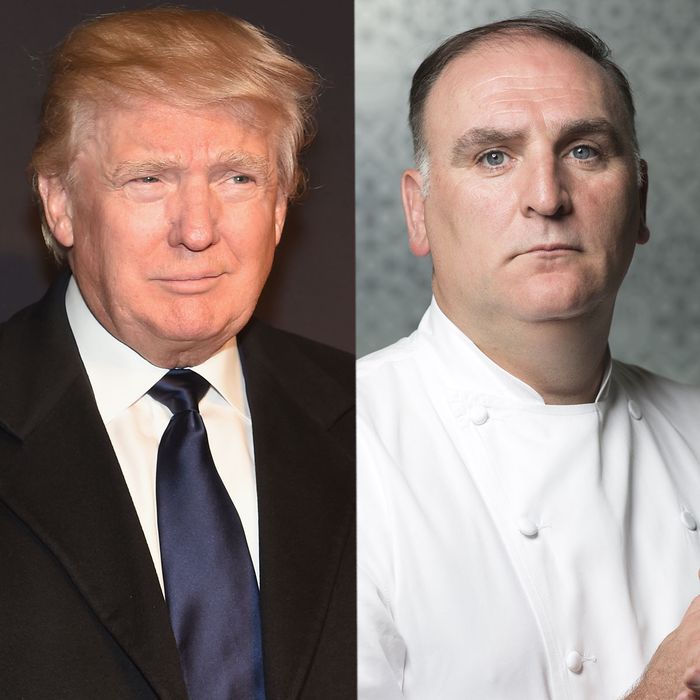 No good deed goes unpunished.
Photo: Getty Images
Precisely as threatened, the Trump Organization has sued José Andrés's ThinkFoodGroup for $10 million, the amount they say the famed Spanish chef owes them for backing out of D.C.'s new Trump International Hotel following Trump's racist comments about Mexican immigrants. Andrés bailed on July 8, saying Trump's disparaging remarks had made it "impossible" for a Spanish-food restaurant with half of its staff composed of Hispanic individuals to open at the hotel. The Trump team hit back immediately, with Donald Trump Jr. telling the Washington Post that Andrés was still on the hook for the ten-year lease he'd signed (plus, now damages incurred from the chef backing out of the deal).
Andrés's legal team sees things differently. ThinkFoodGroup had this to say in its statement:
This lawsuit is both unsurprising and without merit. Simply put, Mr. Trump's comments made ThinkFoodGroup's participation in this project impossible and constituted a breach which the landlord, Trump Old Post Office LLC, refused to remedy. And despite our attempts to negotiate an amicable resolution, we were ultimately forced to terminate the lease. We had every intention of running a successful business that celebrates and welcomes people and cultures from around the world. The landlord allowed Mr. Trump to saddle us with the burden of his inflammatory statements, such that operating a high-end Spanish restaurant is no longer viable for us at this location.
The Trump team argues that its boss's statements as a presidential candidate have no bearing on the business partnership Andrés severed, which left them "to basically go and find a replacement tenant" for the flagship restaurant (Geoffrey Zakarian is out, too, technically leaving two tenants to replace.) Daughter Ivanka Trump told Politico a little more than a week ago that they've had "dozens of chefs and restaurant groups" reach out, and they're currently "reviewing our many exciting options," but reps for the only actual names floating around — two Top Chef alumni, Bryan Voltaggio and Mike Isabella — deny that those chefs are having any kind of discussions with Trump's people.