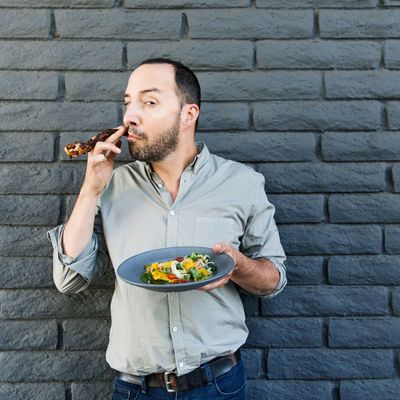 "I kept the Nantucket weekend alive by ordering oysters and my favorite dish, grilled octopus."
Photo: DYLAN + JENI
Brought to you by
This week, Emmy-winning actor Tony Hale prepared for the release of the new movie American Ultra, where he plays agent Petey Douglas alongside Jesse Eisenberg, Kristen Stewart, and Topher Grace. He also began rehearsals for the next season of HBO's Veep. But before professional duty called, he managed to sneak away to Nantucket for some outdoor time, summer relaxation, and — of course — lobster rolls on an island, which he describes as "like Pleasantville."
Friday, August 7
Day one of chronicling my food intake, or realistically documenting what I try to hide. The timing is perfect because it's my wife's birthday and she wanted to introduce me to her favorite place: Nantucket, Massachusetts. She worked there doing odd jobs when she was younger, and hasn't been back in 20 years. Side note: This happens to come at a time when we are trying to be healthy. My thinking? Nantucket equals fresh fish and outdoor activity. Let's see how this goes.
At 5:45 a.m. we head to the airport. Breakfast for the day is a last-minute bag of my sister-in-law's baked cheese straws thrown into our carry-on. At 2 p.m. we arrive at the hotel, 76 Main, and are greeted by four celebratory birthday cupcakes. Now, my wife had done all the research and made the reservation for the place, but then I called after and told them it was her birthday. However, I'd forgotten that I'd done that, so the cupcakes were a surprise for me as well.
That's lunch. We regroup, nap, give each other a pep talk and decide to get some real food: tequila (with a splash of lime juice). At night, the hotel has a bar set on the back porch where you bring your own liquor, and they have all the mixers, and you can make yourself a cocktail before you go out. We then, as suggested by our gracious hotel hosts Dan and Korin, go for tapas at the Proprietors Bar & Table and feast on tuna, seared broccoli, fried onions, and popcorn shrimp.
Saturday, August 8
First off, I love a place that offers free breakfast. Second, when it's homemade granola and scones, I worship it. Thank you, 76 Main. We get our boost and bike to something natural. That is, Something Natural, home of the best lobster roll on the island served on fresh-baked bread.
All the architecture out there is so quaint. You get out to the coast and it looks like a Hollywood set. But definitely my wardrobe was probably not what it should be. There's definitely a style that people dress in, and they all look fantastic. Everybody's in pastels, and all adults have whales or crocodiles or something on their belt. Whereas I look like a thrift store just blew up on me. I really should have gotten my act together.
So far in the trip we were heavy on the eating but low on the activity. We switched it up and biked seven miles to Madaket beach to soak up the scenery. After a shower and short nap, my wife wanted me to experience Siasconset, a quaint, remote village on the other side of the island. We stopped into the Summer House for dinner, which looks like a beach or club house, and you can see the water. The thing you're always going to get in Nantucket is environment. Across the board, every environment is just top-notch. I ordered the grilled, seared Ahi tuna and heirloom-tomato salad. My intentions were pure until they brought the bread basket. I'm not Superman, people!
Sunday, August 9
Another morning, another glorious breakfast from 76 Main. This time, homemade sticky buns, fruit, and granola. Come on! There's awesome misty weather on the island, so we turned in our bikes and strolled around.
For lunch we stopped by Provisions, this little sandwich shop on the wharf, and split the Turkey Terrific sandwich with cranberry sauce and stuffing and some kind of special sauce. It's pretty much Thanksgiving dinner between bread. We topped it off with chocolate-chip ice cream from Nantucket Pharmacy. BAM! I was debating between the candy-cane crunch or the chocolate chip, but if I'm going to go hard on ice cream, it's going to involve some chocolate.
After some more walking, we returned to the hotel to freshen up for our final Nantucket evening out. Dinner at Straight Wharf was by far my favorite. I had scallops seared to perfection with arugula, curried squash, and coconut-lime purée, with a cocktail of grapefruit juice, tequila, and lime. Fantastic. My wife and I both had the same cocktail and dish because we didn't want to share. We ended the night with a couple of glasses of red wine at Ventuno's outdoor bar.
Monday, August 10
I got up around 6 a.m. and left for the airport around 7:30 a.m. I had to fly back to L.A. for work while my wife stayed on the East Coast. When reality hits, it hits hard: Breakfast consisted of a small bag of airport smoked almonds.
I had a layover in New York, and after bypassing what I wanted, Shake Shack — when did JFK get a Shake Shack? — I grabbed a chopped salad from a kiosk for the flight to L.A. It was actually pretty good. It was from La Brea Bakery, and I got the olives, chicken, cucumbers, and tomatoes with romaine lettuce and a lemon vinaigrette.
I landed in L.A., and since the fridge was empty, my buddy Jody — a director who I recently worked with on a movie called Brave New Jersey — came over, and we ordered in burrito bowls with chips and salsa and guacamole. I'd never done a burrito bowl. It's pretty much a burrito without the tortilla. And a chip basket for me is the same thing as a bread basket, basically. If it's in front of me, I've never met a chip basket I didn't like.
Tuesday, August 11
Started off with my favorite breakfast at home: fried egg and avocado.
Since today is my last full day before starting rehearsals for Veep, I'm running errands, and the challenge is to not justify In-N-Out burgers for lunch and dinner. Dinner was a success, but I failed at lunch. You can never go wrong with a Double-Double and fries.
I burned it off with laps around Home Depot and made plans with friends for dinner at All'acqua in my neighborhood. My wife and daughter aren't coming back until Friday, so I'm single until then. At All'acqua, I kept the Nantucket weekend alive by ordering oysters and my favorite dish, grilled octopus.