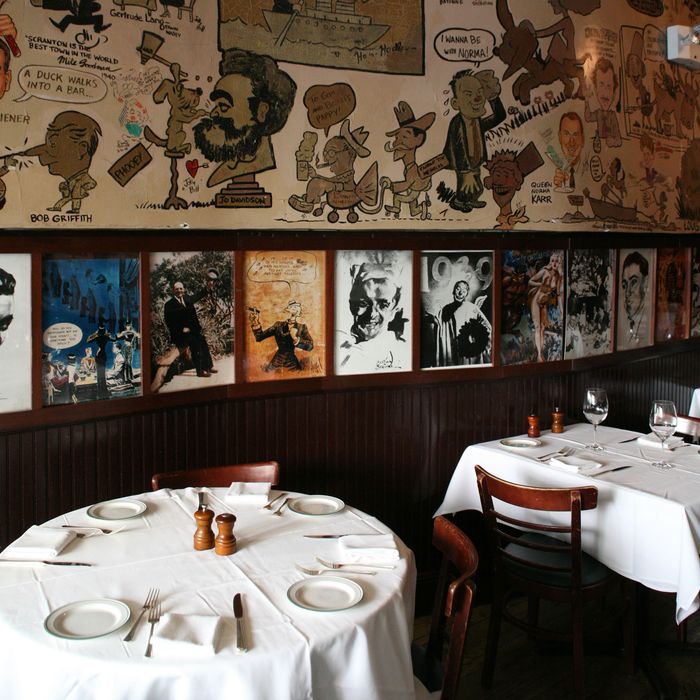 Closing time.
Photo: Shanna Ravindra
There are over 30 locations of the Palm around the world, but the chain got its start way back in 1926, on Second Avenue and 45th Street. Now the steakhouse's history is getting eliminated: Third-generation co-owners Wally Ganzi and Bruce Bozzi are selling the building for $6 million to a company that, of course, is "working with some high-end tenants." The restaurant is famous for its caricature-covered walls, which apparently have already been scrubbed clean and painted over — literally erased.
Mimi Sheraton, who gave the Palm a four-star review in the 1970s, recently named the double-rib lamb chops as one of her favorite dishes: "Lamb is my favorite red meat, and the double-rib lamb chops at the Palm are pure heaven," she said. "I like them very rare with creamed spinach and hash-brown potatoes. I pick them up and gnaw at the bone."
As Times critic Pete Wells put it:
Update: The Palm has released the following statement:
After thoughtful consideration, the Bozzi and Ganzi families have decided that it is in the best interest of The Palm to sell the building at 837 Second Avenue, the original home of the first Palm Restaurant.
42 years ago when Palm Too was opened across the street, the neighborhood easily supported two restaurants. As a consequence of the changing demographics and zoning ordinances of New York City, the neighborhood now supports only one, 150 seat Palm Restaurant.
There are multiple reasons why we would have preferred to keep the original location. However, a careful review of the cost of rehabilitating a wood and brick building, which is substantially over a 100 years old, showed clearly it was an uneconomical choice. As a white table cloth restaurant, the maintenance construction and subsequent operating costs would be materially greater than if the property were used for a different purpose. In addition, once a major renovation was commenced, the cost of complying with new laws enacted by the Federal, State, and City governments were prohibitive for a restaurant use. Therefore, while regrettable the owners of the building decided to sell.
The beloved hand painted caricatures were housed on walls made of plaster, which made it impossible to remove the caricatures for preservation purposes. Photos and videos have been taken of the famous walls prior to the sale for our internal preservation purposes. Caricatures remain an important part of our history and live on in all our other Palm locations.
While The Palm began in that building nearly 90 years ago, the legacy has been cultivated and updated for more than 40 years in our 24 other locations throughout the US and Mexico, including Palm Too — located right across the street — at 840 Second Avenue. Here, along with our other locations, Palm guests can enjoy the same traditional Palm fare and hospitality they have come to know and love.