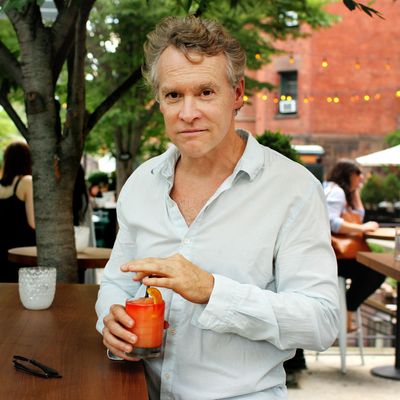 Donovan at Alta Linea, a setting he calls "one of the loveliest in New York."
Photo: Melissa Hom
Brought to you by "There's a story behind every meal," says Tate Donovan — which, sure, is something an actor and Emmy-winning documentary director would say. Fortunately, he's shared many of this week's stories, waxing poetic on hot dogs, frozen Negronis, and Italian food from Arthur Avenue in the Bronx. Read all about it below, and catch him IRL reading other people's stories on August 17, alongside Michael Urie, Sherri Shepherd, and Rachel Dratch at Celebrity Autobiography on the Upper West Side.
Friday, July 31
Breakfast is granola from Sullivan Street Bakery, which is wickedly good. I add yogurt, some blueberries, strawberries, and a banana, which I got from Chelsea Market. Well, I got everything but the strawberries at Chelsea Market, because oddly enough they were out. I had a special-blend Barry's tea with half-and-half and a teaspoon of Vermont maple syrup. The tea is from McNulty's on Christopher Street, one of the great coffee-and-tea stores in America.
I'm directing a documentary about the NFL and Iran, believe it or not — this crazy story that nobody knows about. But if I want to go to Iran, I need a new passport, which means I need a duplicate birth certificate from City Hall. It was a long wait, so I hopped out and grabbed a Sabrett hot dog. It was so fucking good. The sauerkraut was perfect and the mustard was just right. For me, the bun is important, and this bun was super fresh. So I recommend this hot-dog cart, run by a very nice lady from Pakistan on the corner of Worth Street by City Hall. Because man, you need a break from the lines.
Many years ago, I lived by City Bakery, and I frequented it because I'm a big fan of cookies and anything baked. (I'm amazed I don't have diabetes; all I do is eat carbohydrates. It's ridiculous.) They also have the best salad bar I've come across, so I stopped in there for a salad of baby lettuce, beans, pan-fried cod, red onion, and avocado in a vinaigrette sauce. I only ate the salad so I could eat the best pastry ever created … the pretzel croissant. It's amazing: So crispy and so doughy and salty, and I add a bit of jam, so it's a little sweet. And if you can get a warm one, forget about it. When I'm away from town, usually the first place I go to is City Bakery for a pretzel croissant.
My sister and nieces and nephews were in town, so I had to find a good place for all of us to go for dinner. I settled on Co., this pizza joint. We sat at this big, huge communal table and the kids, who are picky eaters, loved it. We had the pizza bianca, Stracciatella, Margherita, and ham and cheese pies; I had a Lagunitas pilsner to drink. We also had this watermelon salad with olives, pistachios, tomato, lime, and ginger gherkin. That was the one thing the kids didn't like, which is funny, because kids love watermelon. My nephew dove into it, and his face scrunched up like it was the worst thing in the world. He looked like he was going to vomit. I was like, "Fine, I'll take it," and I ate his. It was so good.
Saturday, August 1
Breakfast at home is always a variation on the same theme: Either a cold cereal and the above fruit combo, or yogurt and granola and the fruit combo. Today it's Grape-Nuts, blueberries, strawberries, banana, two-percent organic milk, and Barry's Tea. About the tea: McNulty's is the only place I've found that sells this particular blend, which I fell in love with in Ireland. A lot of people sell Barry's Tea but it's the red label, and that's a little lighter. The classic blend is a much maltier, darker tea. It's good for the morning.
A friend of mine was going to the Whitney, and I'd already been, so we met up for lunch at the Gansevoort Market, before I walked her over to the museum. The market just opened up a few months ago, and it's pretty cool, with all these different ethnic booths. I had an honguisa arepa (mushrooms) at Palenque, which was fantastic, and two different kinds of sausages. We split a Dinero sandwich at Capone's (sopressata, artichokes, arugula, mozzarella, oil, and balsamic), and the shrimp pasta at Il Conte. We were just blowing it out on the carbs.
I did some work and met another old friend for dinner at Mémé Mediterranean, on Hudson Street. I had the swordfish over artichokes and shrimp over risotto. He's a vegetarian. I don't know why that matters, but in any case, we didn't eat a lot. Maybe because it was so hot, and we were sitting outside.
Sunday, August 2
Stopped off at La Bergamote, a fantastic French bakery right on the corner of my street, for some fresh-squeezed orange juice and an almond croissant. French people are in there all the time (that's how you know it's good). The almond croissant is totally worth the trip. It's not very appealing-looking: It looks like it's been run over by a truck, but once you bite into it, it's delicious. The French people know.
After a Pilates class, I took a newspaper to Sullivan St. Bakery for a cavolo-kale salad with cauliflower, peppers, and Parmesan-lemon vinaigrette; and some really good Roman-esque pizza, which had no tomato sauce or cheese, just minced zucchini, herbs, and garlic. I also had a canotto verdure. Canottos are hard to describe, but they are these great, little, cheesy, open-faced sandwiches. This one had spinach, something spicy, and Gruyère cheese on this sweet, chewy dough. I also had a really good Flagship lager. By three o'clock, I was pretty much hammered, trying to read the op-ed section of the New York Times.
We had an "Arthur Ave" dinner party at a friend's, which also doubled as a game night (we played Pictionary). I went up to the Bronx and bought the provisions: squid-ink pasta with marinara sauce from Borgotti's, pane di casa from Addeo's, and ricotta and mozzarella from Calandra's. Growing up, my dad worked at Columbia Presbyterian, which is not far from Arthur Avenue, the big Italian section. He would go over there for lunch, and then he started buying the groceries: the pasta, the eggs, the cheese. And then he became the physician of three or four of the owners of various stores. It was hilarious. As a kid, I would literally go to Addeo's, the bread store, and the owner and my dad would go to the back, and my dad would give him a prostate exam. And then they'd come out, he'd wash his hands, and we'd get our free loaf of bread.
Monday, August 3
I grew up in Tenafly, New Jersey, and had to go to my mom's house in the morning to do some paperwork. I pretty much always stop by Celebrity Bagel when I'm there, which is the best bagel in the tristate area. I know. That's a big statement, but it's a crazy, crazy, crazy, good bagel. It's crispy and has a chewiness to it. But it's not too doughy, and it's not too big. I had an everything bagel with cream cheese, tomato, and tuna. I know you're not going to go out to Tenafly any time soon, but if you're caught there for some unknown reason, check it out.
Dinner was at the bar at Cookshop. It's terrible, but I barely cook. I find that it's really not cost-effective: I'm a single guy and every once in a while, I'll resolve to make a meal for myself. I go out and I get a steak, or baked potato, or something simple, and I, you know, fuck it up. I overcook it, I undercook it, and it just tastes terrible. And I spent a lot of money on a good meal, and it's terrible. So it's like, You know what? I should just go to a restaurant and sit at the bar and let the professionals do it.
Cookshop is kind of like my local, if I have a local. The cocktails are fantastic. I started with a Peaches B. Crazy: bourbon, salted-peach purée, St. Germain, lemon juice, and orange-blossom water. Then I had a glass of Ribolla Gialla, alongside a roast-beef sandwich on rye bread with Grayson cheese and red onion; a summery heirloom-tomato salad; and pan-roasted cod. There was a side to the cod, but let's say, because of the cocktail, I forgot to write it down.
Tuesday, August 4
Same ol' bowl of cereal … sorry.
I did a play once with a guy named Josh Hamilton, and one rehearsal he brought in some flogera for the cast. I was like, Oh my God, what is this? It may be the best dessert ever. And I'm not a big fan of custard really — I'm more a chocolate guy when it comes to desserts — but it's like a custardy baklava, and it just dissolves in your mouth. It's worth going out of your way to Poseidon Greek Bakery for. Which I did, for that and the spanakopita.
Later, a couple of friends and I went to Foragers, a ridiculously expensive market in Chelsea, but I think the original was in Brooklyn. They opened up a restaurant, and it's really creative farm-to-table food, and really surprisingly cheap: $39 for the tasting menu, for three courses. It's so good. And it's quality. I went with two friends, and since I go there a lot, they sent us out the octopus-carpaccio appetizer for free, which was really nice of them. I had the farm salad, the roasted chicken with polenta in a curried-pickled jus, and the vanilla meringue with berries, which was the perfect light summer treat.
I had a glass of their Pinot Noir, and again, I forgot to write down the cocktail, but it had egg whites and rum. I love egg whites. They're just like adult milkshakes in a cocktail. The name of the cocktail wasn't online, but I do remember it: Checkered Past. I remember, because I have one.
Wednesday, August 5
Grape-Nuts, strawberries, blueberries, banana, 2-percent milk, and Barry's tea.
Lunch was a whole-wheat harissa falafel at Taïm in the West Village. I don't even like falafel, but this place blows my mind. So fresh and tasty, and their ginger-mint lemonade is so good on a hot day.
Right now, for work, I'm just luxuriating in being the voice-over for AT&T. It's the most awesome job. I kind of just lounge around, and once or twice a week I go into a recording studio for an hour or two at the most. It's fantastic. This month, I'm barely working, but today I also went in to do some voice-overs for Lincoln Center. In September, I start directing Madam Secretary with Téa Leoni. She is awesome. I directed one [episode] with her before last season, and it's the nicest crew and cast.
Dinner was crispy artichoke, grilled flatbread, and trout at the seasonal Alta Linea, where food comes from one of my all-time favorites, dell'anima, and the setting has to be one of the loveliest in New York: an open courtyard of a 19th-century stone building with gas lights and trees. It's lovely and quiet, and feels more like Europe than New York. Plus, they have frozen Negronis. I started with one of those.