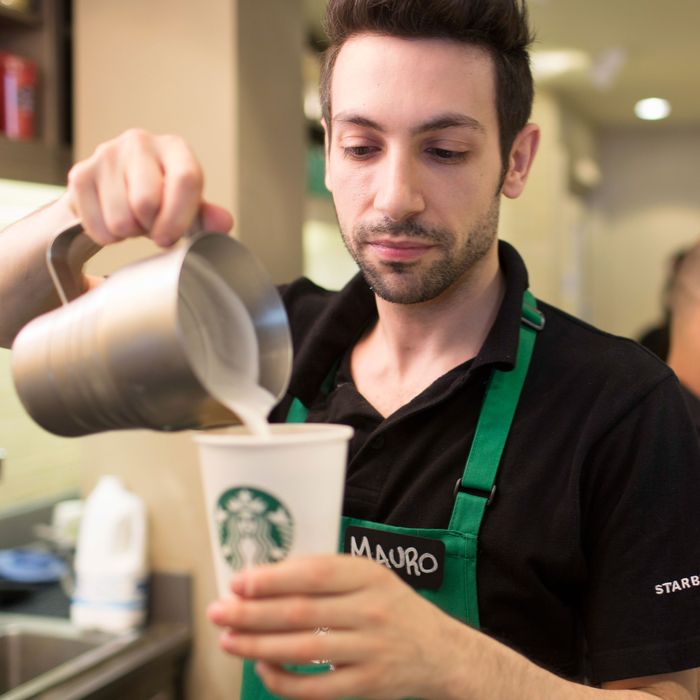 "Our customers are likely to experience an increased level of anxiety and concern."
Photo: Jason Alden/Bloomberg/Getty Images
Starbucks: The place where baristas soothe not just your caffeine jitters, but also your … Wall Street woes? That at least appears to be CEO Howard Schultz's newest addition to his employees' ever-growing job descriptions, right next to "race-relations conversationalist" and "bartender."
It looks like Schultz woke up yesterday seized with the fear that customers were going to wander in feeling "an increased level of anxiety," because of the stock market's ugly turn, so he dashed off a note to employees urging them to be "very sensitive" to any, like, bespoke-suited grumps who fly into fits of rage over the PSL's week-late debut, or whatever. Titled "Message from Howard: Leading Through Turbulent Times," the email begins by saying how Starbucks has "a profound social impact in the communities we serve," and also "will not be impacted by the turmoil of the financial markets." Then, he turns to sympathy for Wall Street traders:
Today's financial market volatility, combined with great political uncertainty both at home and abroad, will undoubtedly have an effect on consumer confidence and perhaps even our customers' attitudes and behavior. Our customers are likely to experience an increased level of anxiety and concern. Please recognize this and — as you always have — remember that our success is not an entitlement, but something we need to earn, every day. Let's be very sensitive to the pressures our customers may be feeling, and do everything we can to individually and collectively exceed their expectations.
Schultz's good intentions notwithstanding, it's fair to say the note probably felt a little tone-deaf to employees working at any of the roughly 13,000 locations that aren't on Wall Street.
[Fusion]