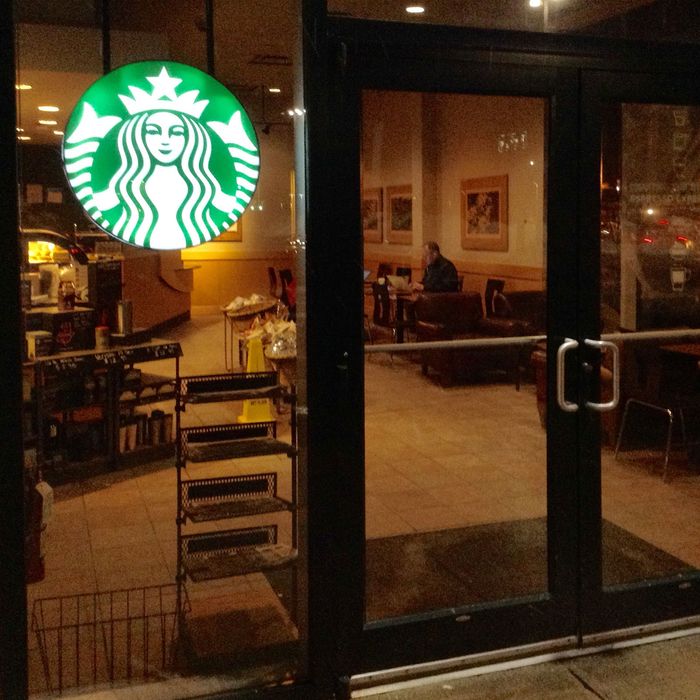 Will it be this depressing?
Photo: Richard Berkowitz/Getty Images
The plan for Starbucks to sell wine, craft beer, and small plates has been in the works for five years, but now the coffee giant is finally enacting it on a larger scale: This week, 24 new locations will adopt the "Starbucks Evenings" program — including the one in Williamsburg — and the company is working to secure liquor licenses for hundreds more.
Besides Brooklyn, the added markets include Denver, Miami, Orlando, and Northern California — joining Washington, Oregon, Los Angeles, Chicago, Florida, and Atlanta. To start, the small-plates menu includes suburban cocktail-party favorites like truffle macaroni and cheese and bacon-wrapped dates, and there are ten wine options on the list. (If customers need help deciding, baristas are apparently trained to help — which probably means regurgitate buzzwords like fruity and full-bodied.)
Starbucks executives see this initiative as especially appealing to women, with the idea that drinking at Starbucks feels safer and more comfortable than drinking in a bar. During the test round, according to USA Today, "pilot stores found serving wine helped the stores attract book clubs, knitting circles and even the occasional Bible study that would have otherwise taken place at someone's house," as well as "a surprising number of online daters meeting for the first time." As Grub has explained, this major shift won't come without obstacles, but "Hey, let's meet for spiked Pumpkin Spice Lattes" isn't the worst pickup line.
[USAT]