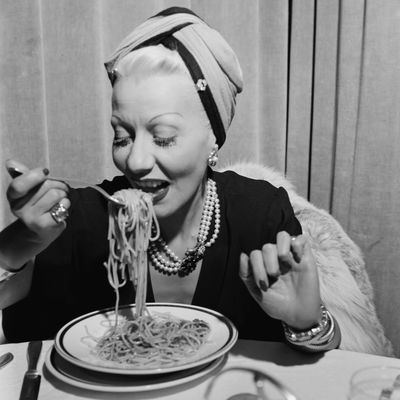 "When you're alone, you can connect with yourself and your surroundings better," chef Dominique Crenn says.
Photo: Matt Green/Archivio Cameraphoto Epoche/Getty Images
After a 26-course, four-hour dinner at Tickets in Barcelona, and a trip to the restaurant's Willy Wonka-like "dessert room," I was ready to tap out. I had eaten an exploding olive, white anchovies with chicken skin, and "spaghetti" made out of king-oyster mushrooms, and it was time to head back to my hotel room and sleep it off. The restaurant's staff, however, had other ideas, and invited me out to a post-service gathering at what someone deemed, "the best Chinese restaurant ever … that's open at 1 a.m., in Barcelona." Qualifiers aside, I was in, only because the invitation was so unexpected. It came about because I had been eating alone — something I do often, but never before at a luxurious restaurant that offers an hours-long, multicourse tasting menu. Turns out it's an experience that can provide many unexpected perks.
The editors of New York recently took a deep dive into the topic of spending time alone, with critic Adam Platt and several big-name chefs revealing where they like to eat by themselves. Dining alone has its pleasures, of course: It offers a complete sense of autonomy — going exactly where you want, when you want, without having to accommodate anyone else's schedule, budget, or (sometimes inane) dietary restrictions. There's space to clear your head and simply enjoy a nice meal.
Rarely, though, do people recommend dining alone at a restaurant that specializes in tasting menus: A partner-in-crime is thought to be a necessary part of enjoying a lengthy meal, where the kitchen more or less dictates what you'll be eating that evening. You're supposed to gaze into someone's eyes while taking synchronized bites of celery root braised in pig's bladder, or something. Ordering a tasting menu for one, the thinking sometimes goes, risks being awkward, uncomfortable, or potentially boring.
And yet, in practice, because of the way most tasting menus unfold, solo dining lets you appreciate them even more. New-age tasting counters like Atera, Blanca, and Chef's Table at Brooklyn Fare, all have bar seats offering direct views of the cooks. My bar seat at Tickets was the one closest to chef Fran Agudo's station, and — as people have pointed out — watching the action unfold is like sitting front row at a Broadway show. Who wants to talk during a great show? Plus: Tasting menus are designed to be complete sensory experiences, and with no dining companions or distractions, you can more easily focus on the beautiful, delicious food you're eating. (And, it's worth noting that these kinds of meals tend to cost quite a bit — sometimes hundreds of dollars per person; there's something rewarding about saving up and splurging on yourself.)
Chef Dominique Crenn, of San Francisco's Atelier Crenn, agrees. "When you're alone, you can connect with yourself and your surroundings better," she says. "It's a very powerful thing to do." There are other advantages: It's hard to get a good feel of an à la carte restaurant when you're alone. Even if you totally over-order, you can only sample a fraction of the menu. When you sit down for a tasting menu, though, you know you're getting the same food experience, more or less, as everyone else in the dining room. (The pacing of tasting menus often works to solo diners' advantage, too — kitchens can send out many dishes in consistent, rapid-fire succession, so you're not stuck waiting for a main course after you've finished your appetizer.)
While the food that's served is similar, the service given to a solo diner is usually superior. Granted, service is always exceptional at high-caliber restaurants, but dining alone provides a chance for an in with the staff, which can easily turn into added perks. At La Chassagnette in Provence, chef Armand Arnal gave me a tour of the farm and recommendations for where to eat the following night. It could have been a one-off kind of thing, but Justin Yu, the chef at Oxheart in Houston, says he too has a penchant for spoiling solo diners: "I myself really enjoy dining alone because I can think about the food much more," he explains. "So it's special for me to see solo diners in the restaurant. I almost always send out extra courses to solo diners, too. More often than not, they've done their research, and they know our goals and passions. A lot of times, they're more engaging."
That relationship goes both ways when the restaurant's staff is more accommodating, too. "When diners are alone, I spend a little more time talking to them," Crenn says. "I ask them questions not just about their food — I get their stories, and try to understand who they are. Where are they from? Why are they here?" And, the chef says, she often comes away impressed with the diners: "These people know who they are, and aren't afraid."
At Tickets, that extra attention manifested itself in the form of an extra course of "air pancakes," filled with cream and topped with maple syrup, black-currant compote, and a pat of caramel masquerading as butter. I had already eaten five other (small!) desserts, but one of the pastry cooks — whom I learned was a stage, just a few weeks into the job — saw me eyeing it from my bar seat. Little did I know, as I somehow made room for the last course, that another act of kindness was to come, and we'd be eating deep-fried shrimp and Peking-duck rolls together later that night. Alone, no more.