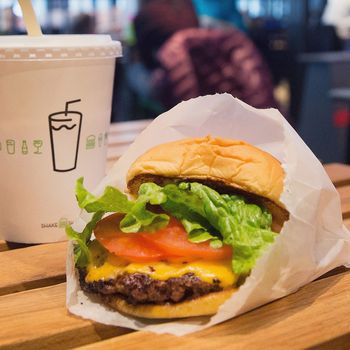 Dayum
.
Photo: Scott Olson/Getty Images
Here's hard evidence of Shake Shack's continued domination: During yesterday's quarterly earnings call, chief executive Randy Garutti revealed that profits have increased by 2.3 percent, to $1.1 million, with same-store sales rising by 12.9 percent. Overall revenue has jumped to $48.5 million — a 74.7 percent increase.
Plus: Since its IPO in January, Shake Shack's stock price has risen over 200 percent. (Buying stock early turned out to be a great idea after all.)
Those numbers are mighty impressive, and Garutti attributes them to a few factors: The return to crinkle-cut French fries significantly reduced labor costs (and pleased loyal customers). Also, of course, there's simply more customer traffic at stores — in part because of special limited-edition burgers. With the much-hyped ChickenShack still in its test phase, who knows how that will impact the following quarter?
As for the future, Garutti said that he expects to see higher same-store sales throughout the rest of 2015, and that he and Meyer are planning to open even more Shake Shack outposts than they originally planned. Back in January, the plan was to open at least ten company-owned outposts annually.
[NYT]