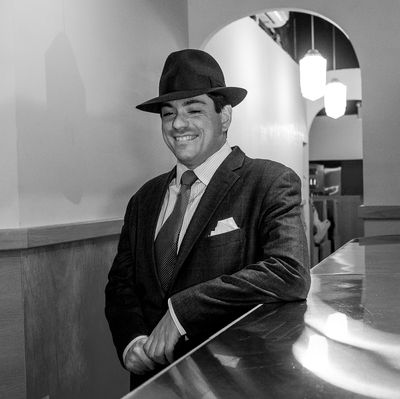 "You have the city all to yourself."
Photo: Gabi Porter/Gabi Porter
Legendary bar proprietor Sasha Petraske, of Milk & Honey fame, died last week in Hudson, New York. In January of 2014, he spoke to New York's Jennifer Vineyard about his ideal New York weekend for the "Everything Guide to Super Bowl Weekend." The feature ended up only including two of Petraske's quotes, but he had some wonderful things to say about New York. Here is the full, previously unpublished transcript:
On a Friday night, when all of New York is incredibly busy, I would grab a coffee or a hot chocolate to-go, and walk down Wall Street, which is totally deserted at that hour. And you can see what this city looks like with no people in it. You have the city all to yourself.
Along Wall Street, near 70 Pine, there are a million beautiful Art Deco skyscrapers that are staring down at you. If you're down there during the day it's incredibly crowded … I would start at the Woolworth Building. You can take the 2 train to Park Place, and then walk down on Broadway, catch a left on Wall Street … and just walk all the way around until you find yourself on the east side.
Saturday morning, if one were to be awake on a Saturday morning, go to Doma na Rohu on Morton Street. I would get the steak and eggs or the crepes. It's a great brunch spot. I very often will see a matinee movie on a Saturday, like a 4 p.m. show, at Film Forum. If I'm going to go out entertaining on a weekend I would go up to Bemelmans Bar at the Carlyle. It's a live-jazz spot. They do close fairly early, at 1 a.m., so you want to get there between 8 and 10 p.m. I usually get a Jamaican Firefly, or Gin-Gin Mule. It's a Dark and Stormy variation.
You'll often find me on Sundays at the John Dory Oyster Bar eating oysters for brunch … I would probably go there and get two dozen oysters and a bunch of crudo and a drink called the Katy Collins. It's a Tom Collins with celery and salt. It's a house drink there. On Sunday night, I tend to head to Attaboy, at 134 Eldridge Street. There, you can find an Australian bartender named Andrew Rice, who makes a mean drink.
Go to Grand Central Station, to Michael Jordan's the Steak House, and get a glass of wine and sit at the café tables on the balcony, and look over what some people say is the best view in New York. I do that when I'm in a certain mood — go up there and get a glass of wine. That's a great thing to do on a Sunday, too.
I guess, if I'm coming for a weekend, I would actually go to Milk & Honey, now that it's open seating and no reservations required. Midnight is always the best time to go. After midnight on a Saturday. What to order? You cannot go wrong with a Clarkson. It's cappelletti, gin, lime, and sugar.