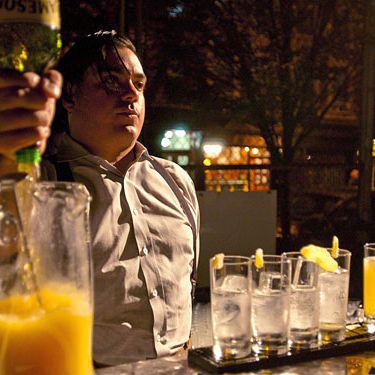 "Sasha was key at actually creating a community and giving it life."
Photo: Jed Egan
Sasha Petraske, a bar proprietor who found unexpected fame after opening Milk & Honey on the Lower East Side 15 years ago, died last week in Hudson, New York. At the time, Petraske was consulting on a new project in town, while living with his wife, whom he had recently married. News of Petraske's death was sudden and shocking — his enigmatic reputation spanned his entire career, so many fans learned he was 42 only with the appearance of his Times obituary. Though details were scarce, reaction was swift: Terms like pioneer and innovator and brilliant were used, deservedly so, but there was an additional sense that these words were insufficient.
Bartenders like Petraske — which is to say those who debate hard-shake techniques — were equally in shock. People poured drink after drink after drink after drink in his memory. Over on Instagram, you can now find something approaching a near-infinite scroll of highballs and Nick and Nora glasses raised in his honor. Many photos were posted by people who never met the Milk & Honey founder, but nonetheless felt they owed him a debt of gratitude.
Petraske was born in 1973 and grew up in the West Village. The child of avowed communists, he went to Stuyvesant High School but dropped out before graduation. He worked odd jobs and later found himself making drinks at Von in the East Village. The genesis of Milk & Honey, in its unmarked, minuscule Eldridge Street space, was improbable: It opened on New Year's Eve, 1999, a decade after Dale DeGroff had revitalized a classic repertoire of fizzes and flips from his perch at the Rainbow Room. In the cocktail world, not much was being done on smaller scales, and certainly not downtown, so Petraske used DeGroff as a starting point and cobbled his influences, including the rococo Japanese cocktail bar Angel's Share, whose house rules he cribbed as a template.
Petraske set under-the-radar Milk & Honey to a bebop soundtrack and made the 1930 Savoy Cocktail Book a touchstone, serving resolutely anachronistic drinks like the Air Mail and Bee's Knees. The place was dimly lit with an unmarked door and its own posted list of rules: "No name-dropping, no star fucking," appearing first and foremost, ineluctably imbuing the quasi-secret establishment with even more mystery. The bar was so small that it had only four seats, plus a handful of booths.
Petraske did not necessarily intend to transport customers to some furtive and imaginary bar of the 1930s by channeling obscure daiquiris and Fitzgeralds. He wanted to bring customers up to date with the present, in fact, with stiff drinks that could easily knock the hard parts of their workdays down a few notches. This happened on a shoestring. "A lot of it, he just came up with by himself because he had no money and needed creative solutions to things," says David Wondrich, the writer and chronicler of cocktail culture. The rules were structured to keep the operation from getting too big. "Sasha couldn't afford to get in trouble and face fines. He also couldn't afford for everyone to come in, and he didn't want everyone to come in." But he treated all guests that did make it through like they were incredibly special.
Milk & Honey quickly became an object of fascination for the drinking public, as well as a point of reference for industry types who had long consigned themselves to a lifetime of soda-gun sour mixes and novelty vodka drinks. Word spread to the West Coast and beyond. "Bartenders would make a point to make a pilgrimage to Milk & Honey when they were in New York," says Paul Clarke, the Seattle-based Imbibe writer. "Some would even make a trip to New York just to go to Milk & Honey."
Toby Cecchini, who now owns Long Island Bar, opened the influential Passerby around the same time the original Milk & Honey made its debut, and watched as the publicity-shy bartender inspired copycat bars structured around the speakeasy format — even Petraske's style of wearing dapper vintage clothing caught on. None of this, it turned out, was intentional. "He certainly didn't set out and say, 'This is what we are going to wear behind the bar,'" Cecchini says. "He wore what he wanted to wear. But because he lived that, people would come into his bar and be like, Oh, let's go put on zoot suits and stuff. I think that disturbed him. He never wanted to be pigeonholed."
Petraske, in fact, favored a koanlike approach behind the bar — with a motto of, "We make cocktails as well as can be made, and that should not be such a big deal." He sourced chest freezers from the overstuffed equipment shops on the Bowery to serve ice by the blocks, rather than deal with molded cubes spat out by a machine. He refused to pour Cosmopolitans in 2000, just as Sex and the City viewership reached its zenith.
Even in the primitive days of social media, Milk & Honey seemed to grow in fame at an unchecked rate. Petraske changed his personal phone number and email addresses every few months; he turned down fashion shoots and interview requests. His elusive nature, due to shyness, made him an outlier in the community. Cecchini recalls a moment that the pair were seated together on a flight to Cognac for an industry event, when Petraske suddenly stopped talking. "He was like, 'Wait, wait, the stewardess is giving the instructions for the emergency exit thing,' and I was like, 'Haven't you heard this a million times before?'" Cecchini recalls. "'I always give her my attention,' he said. 'This is her job and she has to do it.' I was surprised by how engaging and self-deprecating he was, also incredibly humble, in so many ways."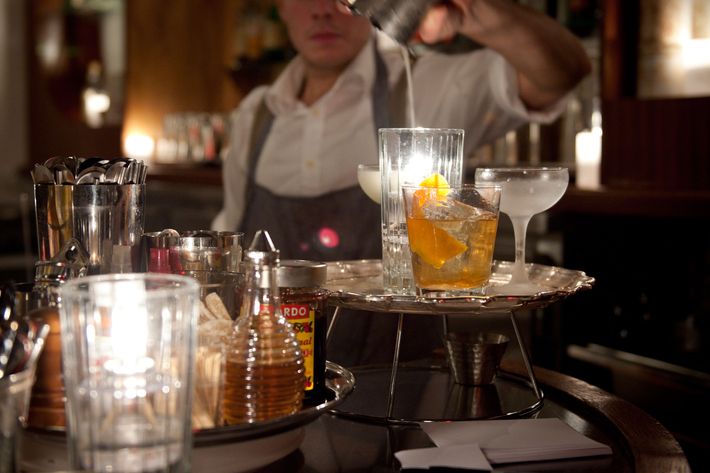 Wondrich noted Petraske's refusal to conform to trends. "He didn't jam up his back bar with extra products to satisfy powerful liquor brands; he really kind of did the opposite. His places were minimal, and he once told me, 'You should never open a bar unless you're willing to sleep in it,'" Wondrich says, pointing to Petraske's Little Branch, which manages elegance without deluxe materials. "It's a weird business, the drinks business," he adds. "Sasha was one of the people who made it fun. He was someone who had personal integrity. He was just who he was. He didn't give a shit about trends. And that was the most beautiful thing."
Petraske's focus on his workers, Clarke says, fostered a new approach to running bars. "It wasn't about an individual personality, or a specific style of cocktail," he says. "It was about a group of like-minded, very talented people doing the best they possibly could, and all working for the same net effect. Sasha was key at actually creating a community and giving it life." Wondrich adds: "He was the first to realize that if you ran your bar like a rock-and-roll band, with a common look and ethos, where all the bartenders are in it together, you're going to get extraordinary loyalty from your employees, but also you'll make these bars into places people really love to be at."
Despite this, Petraske was often thwarted by fallout from the mixed-drinks renaissance he helped engender. He despised the term "speakeasy" — Milk & Honey's legendary hidden door was a design necessity — and he apparently grew tired of explaining that a penchant for mixing Prohibition-era drinks did not imply a love for the Prohibition era. In 2008, he opened Mercury Dime in the East Village, partnering with T.J. Siegal, a friend from high school. The bilevel space was intended to be the café that Petraske had always intended to open, using profits gleaned from running Milk & Honey, which he said was conceived as a mere stepping-stone venture on his path to becoming a restaurateur. He wanted to serve sandwiches and good coffee during the day, and wines by the glass at night.
Siegal's and Petraske's mothers accompanied the pair to the community board meeting in a show of support, and authorities approved of the bid for a wine-and-beer license because of Petraske's exhaustive efforts to keep Milk & Honey low-key. This was, after all, the same establishment that apocryphally banned Quentin Tarantino in the wake of an outburst. (Petraske also once told the Times, "The service I'm offering is an idiot-free environment safe from celebrity sycophants and frat boys who read the listings in Time Out.") "He is probably the only owner in nine years who has run [his bar] according to his representations," the community board chair told the crowd, in a moment of support that remains a rarity in the history of East Village nightlife. But a contingent of East 5th Street residents derailed the plans as the meeting stretched on, and the license bid was rejected, as was a second attempt.
When Milk & Honey, which closed last October, relocated to the Flatiron District in 2013, it promptly dropped its reservations policy altogether because of an abnormally high number of no-shows. Grub Street asked Petraske why he didn't just instate cancellation fees, and he said, "I understand that restaurants do take credit card numbers and charge people for no-shows, but I know I'd never really do that."
His other establishments include the austere, cocktail-shaker-free White Star (2008-2012) on the Lower East Side; candlelit Silver Lining (2011-2013), located in the lower level of a cast-iron Tribeca building, where Fred Astaire-style spats weren't out of place; and East Side Company Bar (2005-2010), which was conceived as a more relaxed Milk & Honey. In 2006, Petraske went on to co-found a consulting company: He opened bars in other countries and wrote the cocktail menus for April Bloomfield's John Dory Oyster Bar and the reopened Lambs Club in midtown.
Along the way, he helped launch the careers of Richard Boccato, who worked as the long-term doorman at Milk & Honey before training with Petraske and opening Dutch Kills, and Eric Alperin, who launched Los Angeles bar the Varnish in 2007 with Petraske's help. Other notable protégés include Kathryn Weatherup, Toby Maloney, Lucinda Sterling, Matty Gee, and Jason Littrell.
At the time of his death, Sasha Petraske was working on his first-ever book. "We had approached him as one of the most influential bartenders in America," says Emily Takoudes, a Phaidon editor. He was also planning to open Falconer, in Red Hook, at the corner of Commerce and Van Brunt Street, in place of a former bistro that had flooded during Hurricane Sandy. In the past few months, workers could be seen renovating the interior and putting up a suitably mysterious wall of glass bricks behind the roll-down gate.
Cecchini says that Petraske's humility set him apart: "I remember him saying to me, 'Do you think you could do what your bartenders do?' I asked what he meant. He said, 'Do you think you're a better bartender than the young guys working under you?' He was very divorced from ego in that way, which surprised me. And when he opened the second Milk & Honey, he went back behind the bar."
In 2013, Petraske told Grub Street he was making drinks five nights a week, and on early Tuesdays between 3 a.m. and 3:35 a.m., he played Joni Mitchell's Blue in its entirety, during which time he gave cocktails away for free. (Blue runs 35 minutes and 41 seconds.) And in a rare interview with Difford's Class, published around the same time, the bartender described his cautious return to his roots. "I cannot overstate how thrilling it is, my heart jumps in the same way it used to," he said.