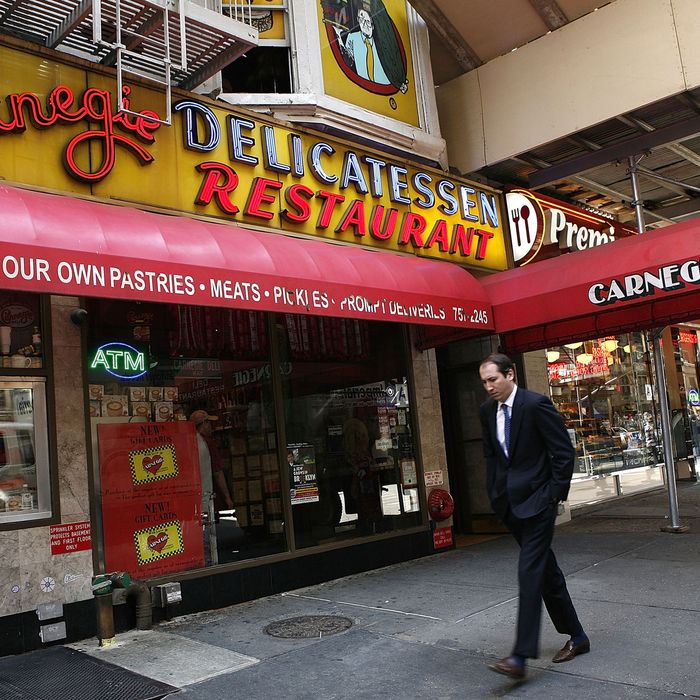 After shuttering in April, the restaurant hopes to reopen "as soon as possible."
Photo: John Lamparski/WireImage
Problems keep worsening for Carnegie Deli manager Sandy Levine, who's been locked for years in a battle with his estranged wife and Carnegie owner, Marian Levine. To recap: The deli had been humming along, despite the internecine war up top, until the end of April, when Con Ed shut the iconic eatery down after learning somebody had MacGyvered the gas connection to lower the meter (this was in the weeks immediately following the tragic East Village gas explosion). Carnegie is still closed, although Marian issued a statement last week to say the restaurant will reopen "as soon as possible," without giving any specific timeline.
Meanwhile, the Levines were back in court yesterday, this time over the $11,000 per month Sandy says he's owed in "maintenance support." New York Supreme Court Justice Matthew Cooper apparently wasn't having it, instead blasting him as the one who "monkeyed with the gas pipes" and calling him a cheat who's no different from Jordan Belfort, unfortunately another client of Sandy's attorney, Donald Frank: "He was the Wolf of Wall Street. This is like the shyster of smoked meat! … Belfort stole money from investors. He stole from workers making $15 an hour. Carnegie Deli in midtown Manhattan! If it had exploded, imagine how many people would have died!"
The judge also declared that Sandy must now take the stand in a future court date if he hopes to prove he knew nothing about the faulty gas line. Even if the restaurant does open again soon, it sounds like the courtroom drama could stretch on quite a bit longer.
[NYDN]