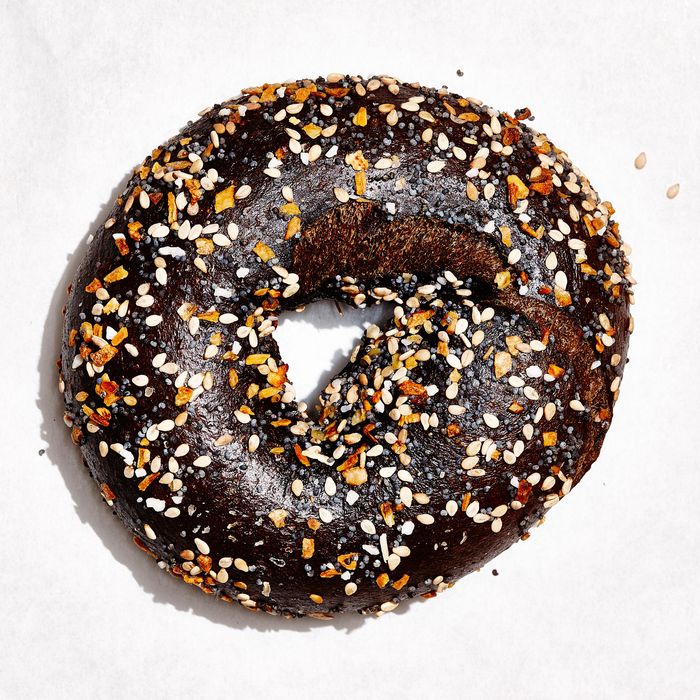 The pumpernickel-everything bagel.
Photo: Bobby Doherty
This week's magazine has the latest on Sadelle's, the forthcoming restaurant from Major Food Group (that's Rich Torrisi, Mario Carbone, and Jeff Zalaznick, or the TCZ gang as we like to call them), in partnership with Melissa Weller, the former Per Se and Roberta's baker. Sadelle's, named for Zalaznick's great-grandmother (who apparently made a mean coleslaw in her day), was simply supposed to be a bakery, showcasing the bagels Weller became known for at Smorgasburg. But as the project developed, that changed. Now, Sadelle's, which is scheduled to open shortly after Labor Day, will be a more ambitious amalgamation of bagelry, appetizing shop, upscale diner, and neighborhood bistro. Imagine if Barney Greengrass and Balthazar had a baby. Or if Danny Meyer's original Untitled at the old uptown Whitney went on a date with Yonah Schimmel … on second thought, scratch that last one, that does not sound good.
Anyway, the point we'd like to make is that, despite all this, bagels will still be the thing at Sadelle's, its raison d'être, its answer to Parm's parm, if you will. And, accordingly, Weller has conducted her bagel research at an almost Talmudic level, tweaking recipes, testing ovens (she's going with the traditional revolving-tray Fish brand), perfecting toppings (there will be four versions of an everything bagel), and brainstorming better techniques for getting the various seeds and spices to stick like glue to the bagels. There will even be gluten-free bagels made with a gluten-free starter and Yukon Gold potatoes that Jeff Zalaznick says brought his gluten-averse wife to tears. "It's not possible," said an emotional Mrs. Zalaznick upon trying a prototype. Mario Carbone sums it all up thusly: "Melissa is to bagel baking as the Neapolitan Pizza Consortium is to pizza making."
As for bagel scooping and flagels, they're not part of the picture. "My belief," says Zalaznick, "is that those things are reactions to bad bagel making and overly doughy bagels, and should be avoided."
Here's a look at and description of a few of the updated classic bagels Sadelle's will serve:
ONION
Problem: Bits of onion sprinkled on top of a bagel have a tendency to burn when baked. Solution: Weller dehydrates onions and leeks, and folds them along with chives into the dough instead of coating the outside of the bagels.

SALT & PEPPER
No Diamond Crystal here, Weller judiciously coats the outsides with Icelandic sea salt which she likens to the Maldon variety, and adds cracked butcher's pepper to the dough.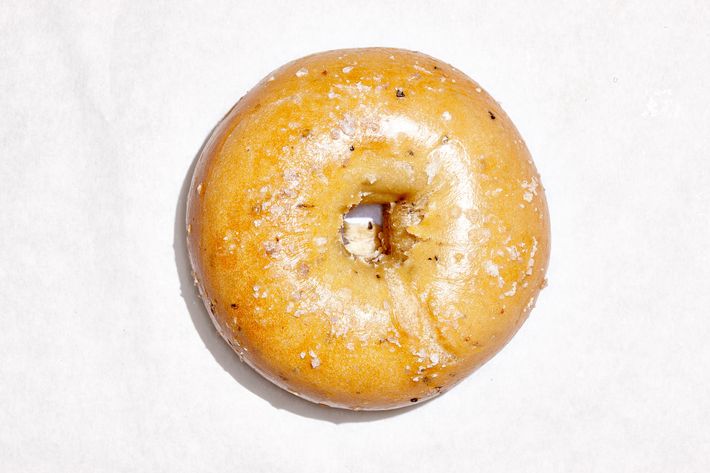 PLAIN
According to Weller, this is how a classic New York bagel, as cooked in a traditional (revolving-tray) bagel oven, should look: pale gold in color with a smooth and slightly shiny surface. The crust should be eggshell-thin with a chewy-soft crumb. The bagel shouldn't be huge in size. It should have a little bit of a hole, but bagels that are almost sealed in the middle are okay. As for the trend toward dark-and-bubbly-surfaced bagels with thick and crusty surfaces, Weller isn't convinced. "A true New York bagel is not supposed to look like a loaf of sourdough bread that was baked in a bread oven," she says.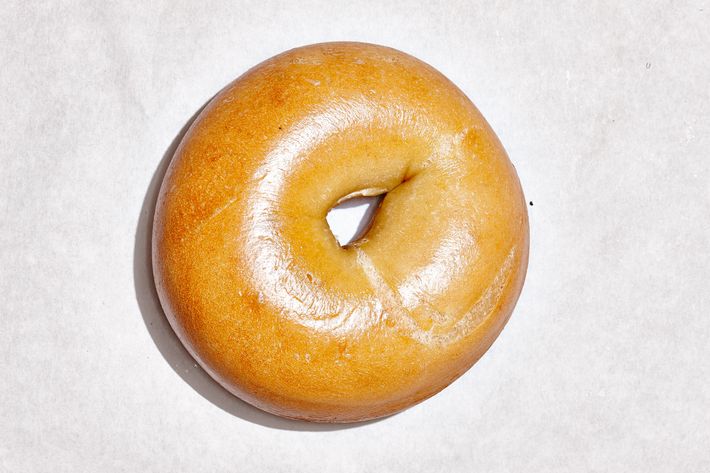 TRADITIONAL EVERYTHING AND EVERYTHING 2.0
Weller's signature everything bagel 2.0 (on left) includes sesame seeds, poppy seeds, dehydrated garlic, salt, plus the unusual addition of fennel seeds and caraway seeds. There's also a traditional everything bagel (on right), a pumpernickel everything, and a gluten-free model. "We think the everything is the king of bagels," says Zalaznick.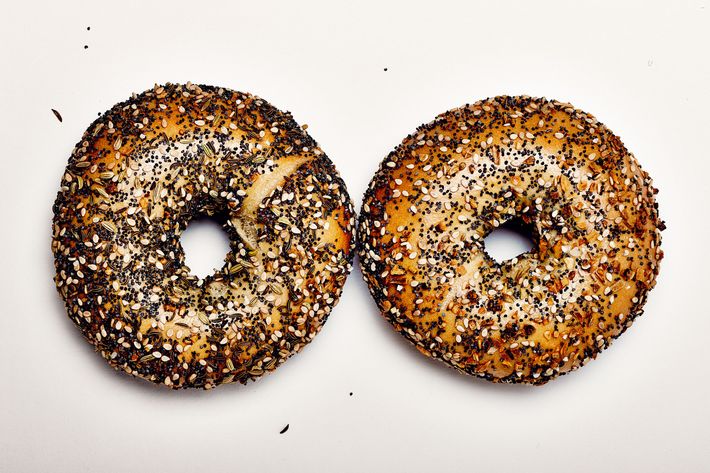 SESAME SEED
Nothing especially innovative about this bagel flavor, but it illustrates Weller's advanced seed-coverage technique. Most bagels are merely dipped briefly in a pan of seeds before they're baked. Weller, inspired by the time she spent baking sesame loaves at Sullivan St Bakery, thoroughly rolls the dough in the seeds before baking. "We're all about full coverage," says Zalaznick.