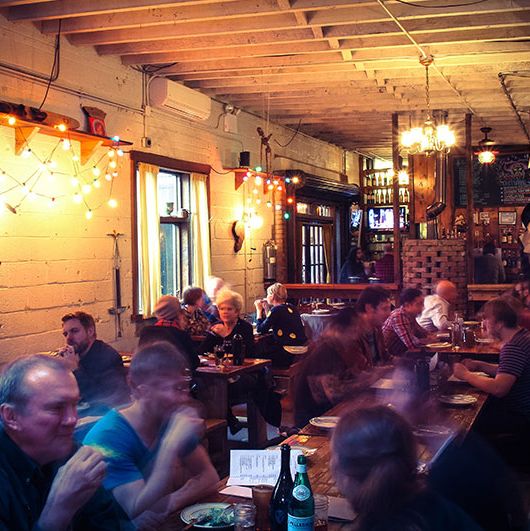 It's the third potential scandal to emerge this year.
Photo: Courtesy of Roberta's
It has not been a great year for Roberta's: In February, two owners filed a restraining order against a former partner, a staffer sued for wage violations in July, and now Gothamist uncovers documents from the New York State Department of Taxation and Finance that it says show a company associated with the Bushwick pizza-and-tiki-drinks palace "appears to owe the government roughly $480K." Here's how Gothamist has it:
The recently-released tax delinquent business list [pdf] includes a company dubbed "NINETEEN TWENTY FOUR, INC." which was listed for a docketed balance amount of $479,724.14. Further research revealed that the business name Nineteen Twenty Four, Inc., registered to an address at 271 Moore Street in Brooklyn, has been used in connection with Roberta's on a number of occasions, including in a lawsuit [pdf] filed against former owner Chris Parachini in February, and on this state Department of Labor recruiting event listing.
Nobody from Roberta's will confirm anything — radio silence has been their M.O. since the first news of infighting among the partners broke in February — but Gothamist points out that "it's not uncommon for businesses to collect sales tax from customers that they then fail to pay back to the government." Hopefully, this latest development is something that can be cleared up, but the situation, as it stands at the moment, just feels like more fuel for the fire that's currently circling one of Brooklyn's most important restaurants.