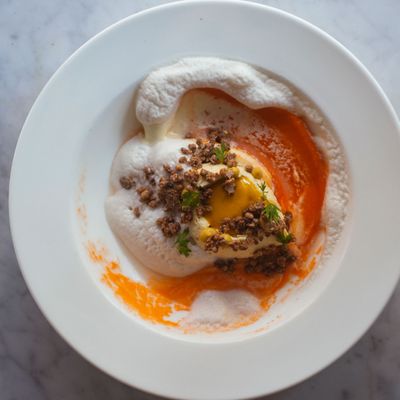 Carrot with wheat-berries and sweet-flag ice cream, to put it in its simplest terms.
Photo: Christina von Messling
Wheat berries don't show up in too many desserts, but they appear in multiple forms in a carrot-themed dish created by pastry chef Rebecca Eichenbaum. She ferments them in water to create a tangy, nutrient-rich probiotic foam. They're puréed with carrot pulp and honey to make a wheat cremeux. And she puffs them to create a crumble for texture. The dessert is finished with carrot sorbet, carrot custard, ice cream that's infused with a wetland grass called sweet-flag, and a carrot-green garnish.
The dessert requires five days of prep work, and is the kind of dish you might expect to find at a fine-dining restaurant. Instead, Eichenbaum, who is 26, is the lone member of the pastry program at Wassail, a vegetarian cider bar on the Lower East Side.
For the most part, Eichenbaum is self-taught. She started cooking in middle school because she didn't like what her mother, a nutritionist, prepared. Making desserts, in a way, was an act of rebellion. "I've always been attracted to the sort of world of pastry," she says. "It's more whimsical. You're more free." It's that same creative inclination that led her to study fashion design at FIT, but she graduated feeling disillusioned with fashion. In turn, she took one baking class at the International Culinary Center, read Eleven Madison Park's cookbook, and started working professionally — first, at Leoci's and Alligator Soul in Savannah, and then, at New York's Mas (la grillade) and Juni.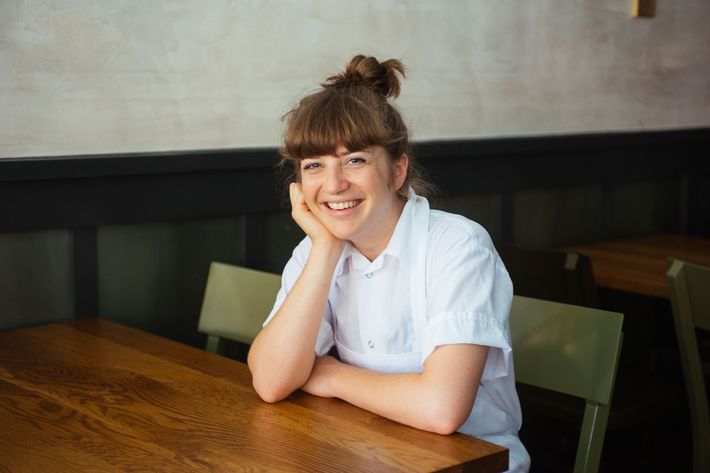 All this eventually led to her to Wassail, which she helped open in March. "I left Juni because I had another job lined up, but it totally fell through," she says. "I didn't really know what I was looking for, but I came in and met with Joe [Buenconsejo, the executive chef] and Johnny [Barr, the service director], and we had the same sort of ideas and visions about things like fermentation. I wanted to do something where I could really have control, and explore."
It also helps that Eichenbaum's light, bright baking style — healthy, calling back to her mother's role as a nutritionist — aligns with Wassail's all-vegetarian menu. She gathers ingredients like Mexican hyssop, yarrow, mint, Greek oregano, and French sorrel in her own Brooklyn garden. One of her newest desserts — pistachio-milk mousse with pistachio crumble, raspberry frozen yogurt, raspberry curd, and a raspberry-and-sumac kombucha granita — was inspired by a foraging trip to Wassail cider director Dan Pucci's childhood home in the Catskills. "There was a bunch of sumac all over, so we just went, picked it, and brought it back here," she says. "I dried it all out and decided to pair it with the pistachio because, botanically, they're related. And the acid from the raspberry made sense with the sumac, too. The common thing that people do with fresh sumac is make sumac lemonade. That's kind of the idea, but I'm infusing it into the kombucha."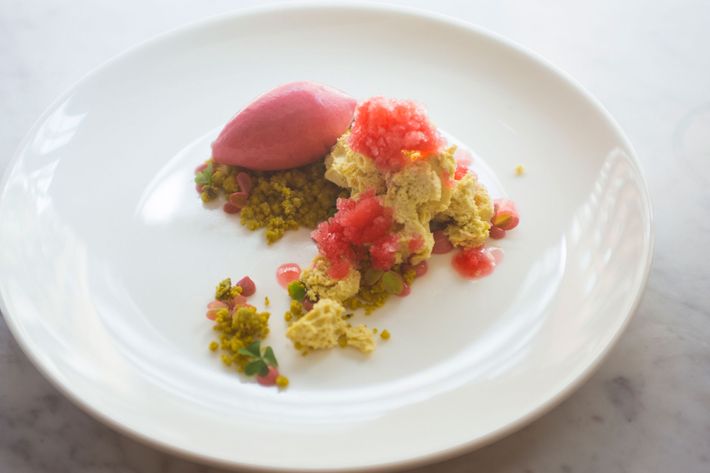 Wassail, owned by Ben Sandler and Jennifer Lim of Queens Kickshaw, is a place that's difficult to define. It's a cider bar, but the vegetarian food is on the same level of Semilla. That flexibility plays to Eichenbaum's flavor: "We have a lot of freedom, since we're not doing culturally specific food. It just has to be vegetable-focused, but that does make my job harder because I can't use gelatin. I made a panna cotta with a blend of agar and cocoa butter, of all things."
Beyond the deep thought put into her flavor combinations, what makes her desserts so impressive is that they're delicious and crave-able. "I still try to make things that ultimately taste good," she says. "I don't totally pair things together for no reason, just for the sake of being random." Sometimes, like in the case of an earthy dessert of figs, oat milk, angelica oil, and angelica-and-lovage cake (which the Wassail cooks jokingly call "weed cake"), the ideas come quickly. But in the case of her rose dessert (rose cream, wild ginger, and strawberry ice cream, to put it in its simplest terms), she obsessed over accentuating the magenta-pink color of the rose petals — a nod to her fashion background. "Rose petals have a cyanide compound, so if you mix them with an acid, they turn more pink, but if you mix them with a base, they turn purple or blue or sometimes brown," she explains. "If I tried making a meringue, egg whites are the base, so the petals turned purple. That was cool, but I wanted it to be pink. It took a lot of trial and error."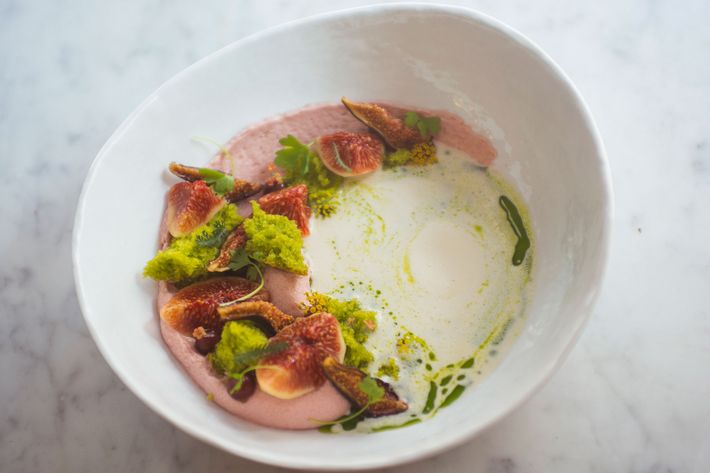 Is Wassail selling enough dessert to justify all this work — all researched and executed independently, without the help of a second-in-command? As New York chefs have expressed, it can be hard to persuade diners to end on a sweet note. Eichenbaum says that, on average, she makes 15 to 20 desserts per night, and that the restaurant has a "pretty good ratio" of tables to desserts. And while she says that budget isn't an issue, she makes sure to maximize each ingredient — like she did with the carrot pulp and the bran of the wheat berry: "I like to use as much as I can of whatever plant, or fruit, I have. I do a lot of preserving and dehydrating. I ferment and freeze things."
Whatever's next on her menu will include a musky sugar made from "urban-foraged" fig leaves (she says it tastes similar to coconut sugar), and sea buckthorn that Eichenbaum got from a cider house in the Finger Lakes. "I just made that into a sorbet, but I don't know what its destiny is yet," she says. As for Eichenbaum's future: She may be on the path to becoming a fine-dining pastry chef, but she's not sure if she even wants to continue baking. "I've thought about going back to grad school," she says. "I'm not sure if succeeding in the restaurant world is my ultimate goal."
For the moment, though, dessert seems to bridge her artistic and academic sensibilities. Consider the carrot dessert again: She carefully chose to infuse sweet-flag into ice cream because of its appearance, tropical aroma, "beautiful flavor," and history of appearing in folk recipes to make syrups. "A lot of this," Eichenbaum says, "is just wacky ideas in my head that end up being on a plate."