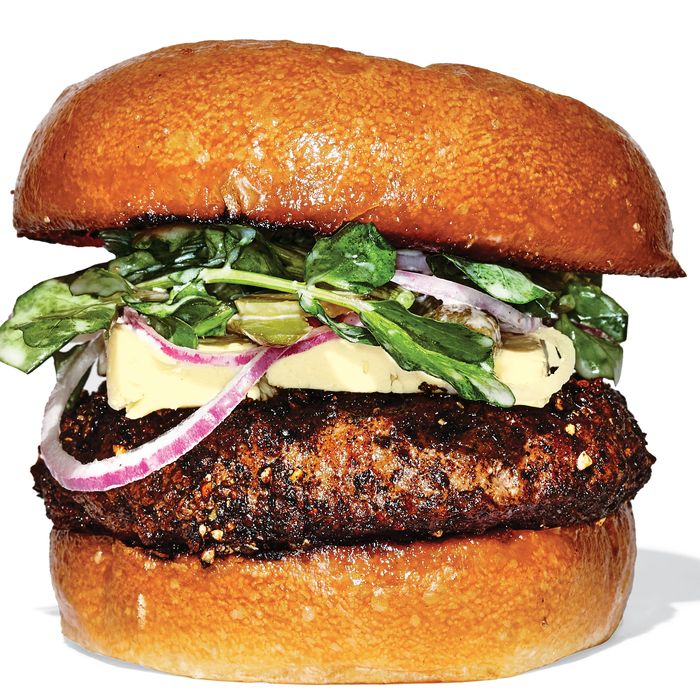 The big change happens when the restaurant launches brunch next month.
Photo: Bobby Doherty
Soho French mainstay Raoul's has had something of a resurgence ever since it added a very-limited, much-ballyhooed burger to its menu. The $19 "au poivre" burger, with a pepper-crusted patty, dressed watercress, triple-crème Saint-André cheese, fries, and its sidecar of au poivre sauce has gained a very strong following since its introduction last year, but this is one of those deals where the kitchen only makes 12 per night, and you can only eat them at the bar, which is to say that by the time most people show up for dinner, the night's allotment is usually sold-out.
Soon, though, that will change. A rep for the restaurant sends word that Raoul's will launch a brand-new weekend brunch service next month, and that the burger will finally be available "in unlimited quantity" during the day. Customers will even be able to order them while sitting at actual tables (imagine that), and not just the bar.
There are also, as you might expect, things to eat in addition to the burger. The kitchen is still tweaking the final menu, but would-be brunchers should expect to find a section of tartines (prospective options include one with spicy avocado and that same Saint-André cheese, and one with New York-smoked salmon, butter, and radishes), soufflé apple pancakes, traditional buckwheat crepes with Jarlsberg and Parisian ham, and a no-doubt textbook omelette with smoked salmon, salmon roe, and crème fraîche. To drink, there's an oyster Bloody Mary and one option that the current menu lists only as "Mimosa with 5 homemade compotes" (emphasis theirs).
Brunch kicks off on September 19, and hours will be 11 a.m. to 3 p.m. on Saturdays and Sundays.