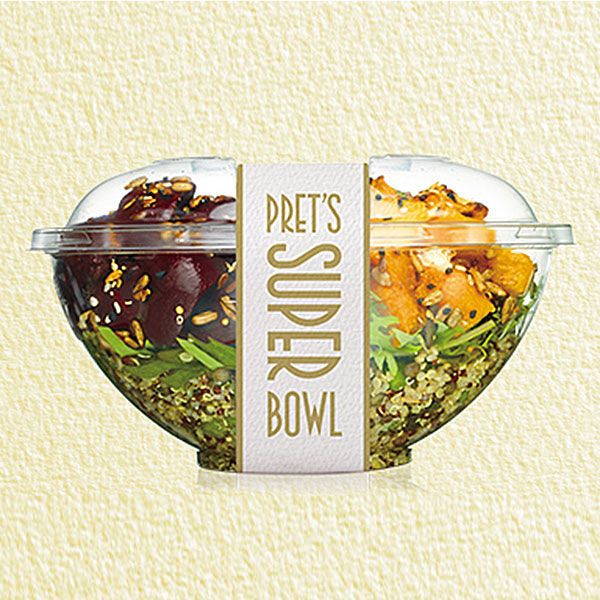 "Put simply, vegetarian food has to be delicious if it is to gain more traction."
Photo: Courtesy of Pret A Manger
Over in the U.K., Pret A Manger's new vegetarian offering, a "Superbowl" with beets, squash, and feta, is clobbering the meatier alternatives in sales — a surprising development CEO Clive Schlee says, "would have been unheard of five years ago." This, along with the fact that Pret locations are selling 13 percent more vegetarian sandwiches and salads this year (a faster uptick than anything with meat), got him thinking that maybe it's time to give people what they seem to want: an all-vegetarian Pret.
Schlee, whose endgame here is to make Pret's menu more plant-friendly without upsetting any customers (he cites Michael Pollan's gospel), thought this might be one way to achieve a civil middle ground. He explains the thinking in a blog post:
How can Pret help people to enjoy more vegetarian food without being preachy, or worse still, alienating our customers? After all, our best-selling sandwich at the moment is the Chicken Caesar & Bacon baguette and some of the fastest growing chains in the world like Five Guys and Chipotle are distinctly animal protein-oriented.

One idea is to open a vegetarian Pret A Manger shop. It would offer the usual Pret menu but replace sandwiches and salads containing meat and fish with a delicious range of vegetarian items. These dishes would have to be good because in the food business, it is always taste that wins the day. Put simply, vegetarian food has to be delicious if it is to gain more traction.

The danger of doing this is that we take choice away and upset loyal customers and, of course, we love our current range. The reason to do it is to act as a beacon for more innovation at Pret for the future, which offers greater choice. It would encourage Pret to create tastier vegetarian food and tempt customers who are inclined to try new alternatives.
Schlee says the idea is very much still "in its infancy," so Pret is leaving it up to the customers, asking them to vote on opening vegetarian shops, devoting one fridge at every location to veggies, or leaving everything alone.