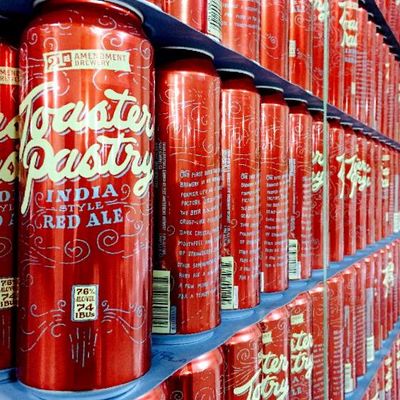 Any chance the brewery is using the s'mores flavor?
Photo: 21st Amendment Brewery
A company called 21st Amendment is the nonconformist creator of brews like Hell or High Watermelon, and now it's getting into the breakfast-foods-as-beer game with a Pop-Tart–themed red India pale ale. The San Francisco microbrewery says its contribution to this sudden trend — something it calls Toaster Pastry — commemorates the move into its first brewing facility, which is a former Kellogg's factory.
Unlike the upcoming HefeWheaties or the soon-to-be rereleased Cerealiously Count Chocula, which are kind of BINOs (breakfast-in-name-only), as far as tasting like their namesakes, 21st Amendment is suggesting Toaster Pastry will be pretty Pop-Tart-y, though it remains unclear how official the tie-in to Kellogg's actually is. Here's how 21st Amendment's brewmaster describes the taste to SFGate: "Biscuit malts give the beer a slightly nutty, crustlike flavor, while pale and dark crystal malts create the mouthfeel and flavors reminiscent of strawberry jam."
The brew includes six hop varieties and, notably, packs 7.6 percent ABV into 19.2 ounces, so cracking a can is like starting the day off with a good (and much more bitter) chunk of a normal six-pack. What's in dire need of clarity here, though, is if everyone is talking about frosted or unfrosted.
[SFGate]