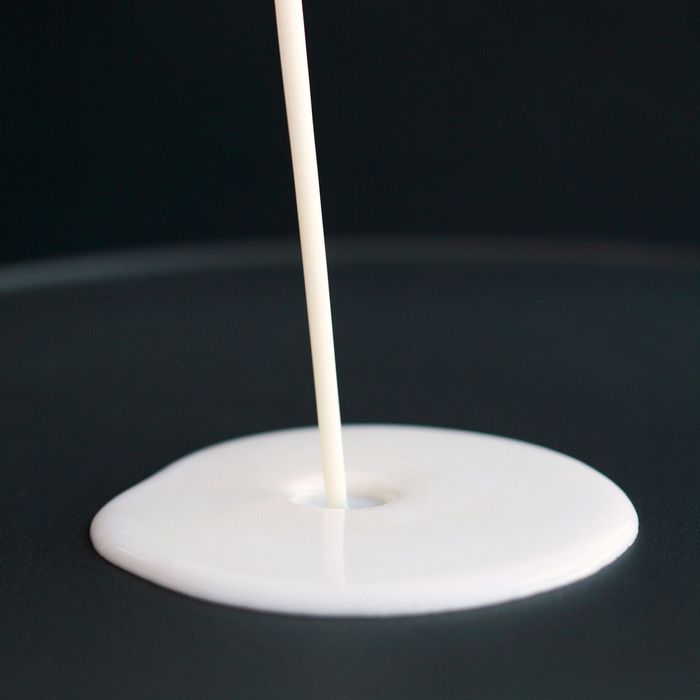 The PancakeBot's Kickstarter campaign raised nearly $500,000.
Photo: Michael Powell/2/Ocean/Corbis
Like all great internet success stories, the PancakeBot is at once the product of great effort and imagination, and also entirely unnecessary. It's a 3D printer that turns anything you draw into a detailed, freshly made pancake. The device raised $460,584 on Kickstarter this past spring, catapulting its creator, a Norwegian resident named Miguel Valenzuela, into brief net stardom: He was name-dropped on Grub Street, naturally, and in the New York Daily News, Forbes, TechCrunch, and even Russia Today. But the most important bit of press may have come from a food-tech blog called 3Digital Cooks, where a reader, Gloria Martinez, left this comment:
Looking for my brother Miguel Valenzuela and I believe this may be him. I'm hoping you can put me in contact with him??
Internet virality is an unpredictable ride; the only guarantee is that your name will scroll past millions of people, most of whom will give it no consideration. Some people, however, might have been waiting for years to see it. This seemed to be a case of the latter, and suddenly, the story of a customizable pancake machine took on a new layer of intrigue.
"It's actually kind of a strange tale," Valenzuela says — family lost and family gained. An international house, if you will, of PancakeBot.
Valenzuela was born in Mexico in 1974. His father left the family under circumstances that Valenzuela says were never fully explained; his mother wanted a better life for her new son, so the two made their way to America. Valenzuela's mother eventually met and married an American army man, securing citizenship for the whole family. By the time he was 25, however, Valenzuela was curious enough about his biological father that he took a trip down to his father's Mexican hometown and asked around, hoping to find a long-lost relative. And he did: His paternal grandmother, whom he'd never met, was still there. She told him that his father was in San Jose, California — along with a sister, Gloria, that he'd never known about.
Technically, she was his half-sister: the daughter of Valenzuela's father and another woman.* But still, Valenzuela was excited. This sibling was at once a link to his past, and someone to build a fresh relationship with. So, a short time later, he traveled to California to meet her. "She was stoked," Valenzuela says. Hugs. Laughter. Lots of catching up. And soon after, Gloria introduced him to his long-lost father.
Valenzuela didn't know how to feel about his dad; he was curious about him, but resented that the guy had never reached out. His father, however, had news: Years earlier, he'd hired a private investigator to help the two reconnect. At the time, Miguel Valenzuela was trying out a more Americanized identity as Mike Valenzuela. That was apparently enough to throw the PI off the trail, but the story gave Valenzuela comfort. He hadn't been forgotten. Dad and son talked for a while. "I never got into the details of how we got separated," Valenzuela says, "but he was a pretty nice guy."
A few years went by, with more conversations. Around 2002, Valenzuela and his mom were traveling near San Jose, so Valenzuela called up his dad and suggested a full family reunion — father, mother, and son. "And he basically kind of blew me off," Valenzuela says. After that, communication ceased — not just from his dad, but from his half-sister, too. Valenzuela tried to make contact, but nothing worked. No emails returned, no phone calls answered. His thinking at the time was: "I guess people just don't want their past brought up."
So he gave up. Years passed. He became an engineer, married a Norwegian woman, moved to Norway, and began raising two daughters. That's where the PancakeBot was born. The family's first winter was brutal: The weather was inhospitable, and because Valenzuela didn't speak the language, most indoor spaces were equally isolating. He needed a project. "I was trying to immerse my children in this world of inventing and creating and making," he explains. "And we had nothing else to do." So he began building PancakeBot, at first with a Lego set.
Four years later, in 2014, he debuted the pancake printer at an annual, giant science fair called Maker Faire. The press immediately paid attention. Then, last August, his half-sister left the comment online. Valenzuela saw it, and reached out. "And she was all happy to hear from me," he says. He was happy, too. They had a bunch in common and plenty to talk about — both have two kids, both work in engineering industries. She seemed to be doing really well, Valenzuela says. And she helped him fill in some of the blanks about their history. His suspicion was true: Their father did cut off contact because Valenzuela proposed that visit with his mother. "And then, apparently my mom had talked to him and yelled at him, 'Don't abandon your son again,'" Valenzuela says. The father evidently didn't take kindly to that.
They never resolved the rift in their own relationship, but Valenzuela assumed it was history: Brother and sister were finally in touch again, right? But soon, once more, they weren't. "I don't understand it," he says. "I call and leave her a message and she still doesn't respond to me. I'm not sure what's going on. The whole thing is kind of strange."
These days, Valenzuela has other things to keep him busy. He and his family have since moved to San Diego. His Kickstarter donors asked for many changes to PancakeBot — small stuff like changing the location of the SD card, and larger stuff like making it easier to clean — and so he's been retooling the product, getting ready for the first bots to be shipped in September.
And maybe, he says, once every paying customer has their PancakeBot, he'll send one to his sister as well. With the right programming, it could squirt out a pancake that looks him. Or their dad. Or, maybe, something entirely new.
*This posted has been corrected to show that Valenzuela and Martinez are half-siblings, not stepsiblings.