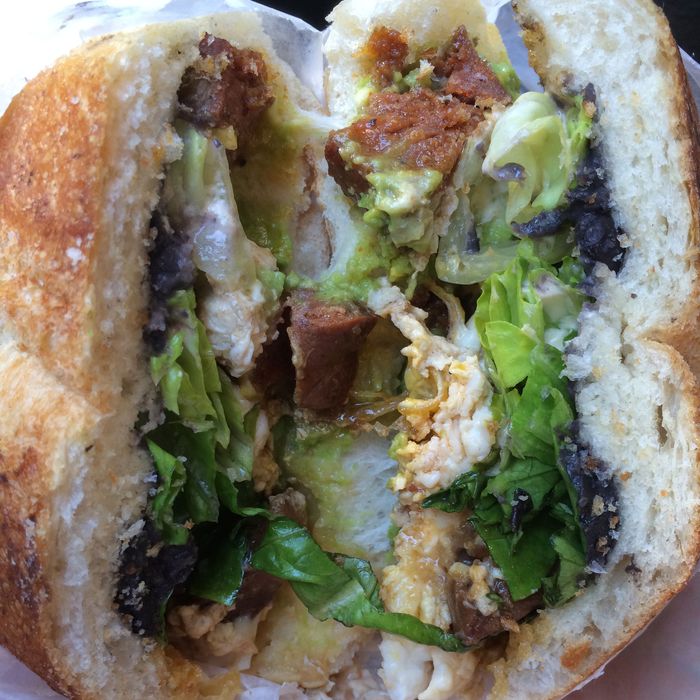 A chorizo-and-egg torta.
Photo: Rob Patronite
The Underground Gourmet has a special fondness for New York's Mexican delis — the Zaragozas and the Tehuitzingos, the El Atoraderos, and the El Tenampas — where one can stock up on all manner of dried chiles and canned hominy, and then chow down on an overstuffed burrito or tongue taco from a makeshift kitchen. Think of the weeks-old Miscelánea in the East Village as the stylized evolution of that retail model: a pint-size south-of-the-border Bklyn Larder, say, or maybe a cross between Court Street Grocers and Dimes, with a little Monocle shop thrown in. "The word 'miscelánea' means deli in Mexico," says owner Guillaume Guevara. And so Miscelánea's miscellanea includes a well-edited roster of artisanal sundries, new-age apothecary items, and assorted doodads, from coconut oil to candied pumpkin seeds.
Guevara considers his shop a cultural clearinghouse for modern Mexican products, both imported and locally made. There are La Newyorkina Mexican-chocolate brownies, Tortilleria Nixtamal tortillas, dried beans and epazote, tortilla presses and lime juicers, and artsy food and fashion journals (en español).
This is all well and good for home cooks and armchair travelers, but for the U.G., the real draw at Miscelánea is the brief menu of tortas and snacks, prepped in the rear kitchen and eaten — if you time it right — on the bench outside. The carnitas torta is top-notch, full of tender, juicy meat, cilantro, onions, and a swipe of mashed black beans. The chorizo-and-scrambled-egg variety is even better. One caveat: These are well-balanced and streamlined sandwiches, not the overstuffed specimens you find in Sunset Park or at Tortas Neza on Roosevelt Avenue. The bread, sourced from a Bensonhurst bakery, is soft and light with a nice surface crispness, and the pickled vegetables that come on the side add zing. You can supplement your sandwich with an order of esquites, the shaved-corn street snack doused with lime juice and topped with squeaky queso fresco, mayo, and chile powder, or a minimalist chilaquiles, and wash it down with a Mexican soda or housemade agua fresca in flavors like hibiscus or pineapple. Guevara is very proud of his coffee, which is imported from Chiapas and roasted by Joe Coffee in Red Hook, Brooklyn — a perfect example of the shop's cross-cultural mind-set.
63 E. 4th St., nr. Bowery; 212-253-0277