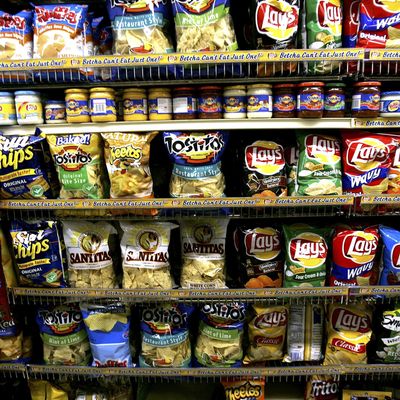 Problematic.
Photo: Spencer Platt/Getty Images
It's no big secret that brands whose food is preceded by either "fast" or "junk" disproportionately advertise to children in minority communities. Until now, though, no one's really measured in-depth how pervasive the problem is with this group, which is already more likely to live in a food desert and be overweight. Researchers at the University of Connecticut's Rudd Center for Food Policy and Obesity did a "comprehensive" study of the ads purchased by the biggest chains and food brands, which involved calculating the percentage that appeared on Spanish-language channels and black-people-targeted shows.
The tally is even more worrying than most people thought: "Unfortunately," they write, "the majority of brands targeted to youth of color are nutritionally poor products that can be harmful to their health." Among the crazier parts of their findings:
• Black youth see "at least" twice as many sugary-drink and candy ads compared with white kids, and about one-fifth of all ads aimed at African-Americans are for candy.
• Researchers found three brands that don't even place English-language TV ads anymore: 7 Up, Kraft Mayonnaise, and Fuze Iced Tea.
• Black children see 70 percent more ads for food outright, but only one percent of them are for juice, unflavored water, dairy products, or anything else healthy. Zero brands of water placed ads during TV programs targeting African-Americans, and the only dairy product featured was Yoplait Light.
• All told, 48 brands disproportionately targeted TV ads at black or Hispanic youth. This group includes McDonald's, Wendy's, Burger King, M&M;'s, Snickers, Twix, Pop Tarts, and Orbit gum.
The big dilemma here, UConn's researchers point out, is that it's "not problematic in and of itself" for McDonald's or Coke's or Hershey's marketing team to know what sells where, but the findings definitely show "that racial-ethnic targeted food marketing likely contributes to health disparities" among black and Hispanic youth in particular.
[NBC]