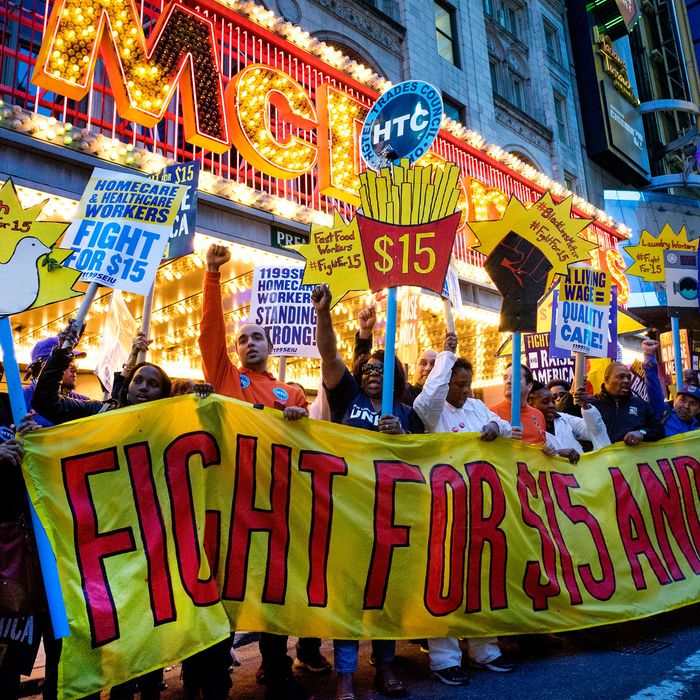 There's plenty more to spend.
Photo: Craig Ruttle/AP/Corbis
Fight for 15 has been McDonald's biggest labor headache for more than a year now, as the group has quietly poured millions into demonstrations nationwide. Now it seems that its chief organizer, the Service Employees International Union's Scott Courtney, is adopting a more vocal role, timed with news that people are taking the fight with McDonald's overseas. In Sunday's Guardian, Courtney tells longtime labor reporter Steven Greenhouse that last week's National Labor Relations Board pro-union ruling was great, and Fight for 15 plans to spend "whatever it takes to sustain the movement."
Labor experts have apparently advised Courtney to set a less ambitious goal — like unionizing 100 company-owned restaurants first, leveraging that to get a $15 wage for just those employees, and then replicating this model again and again. But Courtney told Greenhouse, "That's too small an approach," adding, "This is about lifting up the 64 million American workers who make less than $15 an hour, who aren't making enough to live on." McDonald's refuses to negotiate with the SEIU — and therefore, Fight for 15 — because the group doesn't officially represent employees, though that's largely a technicality owing to the fact that McDonald's employees can't officially unionize. Riffing on the chain's own "modern, progressive burger company" mantra, Courtney says, "The rational thing is to sit down and have a conversation on how to make this a truly good, progressive company." Let's help you put that money where your mouth is, in other words.
Of course, until executives make a good-faith effort, he says the headaches will continue: "We're going to shine a light on some things they do, and some of those things don't smell or look very good."
[Guardian]