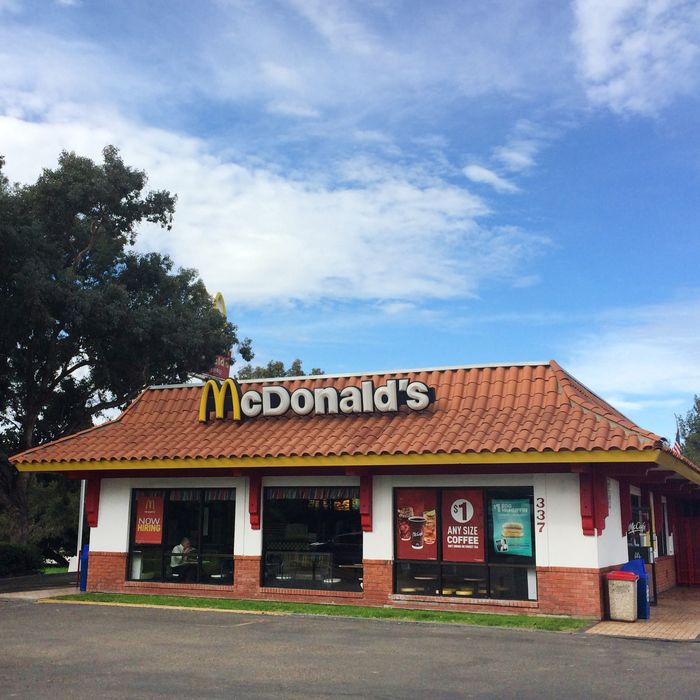 Not lovin' the McGrenade.
Photo: Geri Lavrov/Getty Images
It's the kind of thing that only happens in the former Soviet bloc or in the American suburbs: A landscape crew digging at a McDonald's in Thurmont, Maryland, unearthed a decades-old live hand grenade, nearly killing themselves in the process. The Frederick News-Post reports that it took nearly two hours, area evacuations, road closures, plus a 50-foot perimeter around the site, but bomb-tech personnel successfully "secured and removed" it.
It looks like a real white-knuckler:
Bomb technician Dale Ednock said the grenade, found lodged about a foot under the pavement, was there for quite some time. The military grenade was likely a relic of the military base located in Thurmont several decades ago, Ednock said.

No injuries were reported, but Ednock confirmed through an X-Ray scan on scene that the grenade was still active. If it had gone off, anyone in the vicinity could have suffered severe injuries, or death, he said.

"If the guy operating the shovel machine had hit it, he would have been killed, no question," Ednock said.
Apparently the lunchgoers across the street at Roy Rogers were put on lockdown — a crowd that included Thurmont's public-works superintendent Butch West. He reports that they watched "close to 50 people" get evacuated from Mickey D's. Entirely too fittingly, the group at Thurmont's Roy Rogers also included a couple celebrating their 23rd anniversary. They called the two hours of unexpected downtime "something, to say the least."