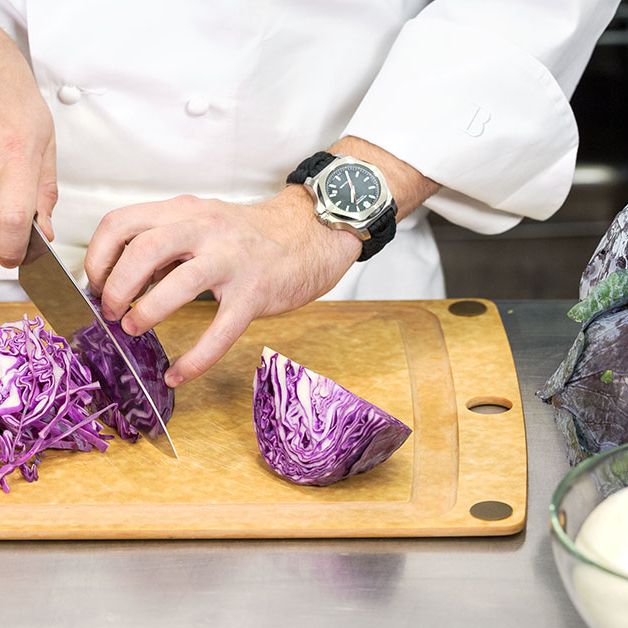 Mastering proper knife skills makes all the difference between viewing kitchen work as drudgery or a joy. An all-purpose chef's knife is indispensable and an essential ingredient for preparing any meal. Perfectly suited for chopping herbs, dicing onions, mincing shallots, crushing garlic, slicing meats of all varieties, and shredding cabbage; its versatility makes it your go-to knife.
The Victorinox Rosewood 8" Chef's Knife takes versatility to the next level with its award-winning blade. Here, chef/owner Daniel Humm of Michelin three-star restaurant Eleven Madison Park and The NoMad in New York City demonstrates tips and techniques to help you on your way. Watch and learn how to:Learn
to cut: Chicken Onion Cabbage BaconPrevious Vegetable
Chicken
Next Vegetable
Chicken
Portion Chicken:
• Cut through loose skin between the leg and breast, while pulling each leg away from the bird
• With the chicken on the cutting board, cut along one side of backbone, keeping knife as close to the bone as possible, pulling the breast away as you cut
• Remove skin using knife for stability
• Cut chicken into strips
Previous Vegetable
Onion
Next Vegetable
Onion
Brunoise Onion:
• Trim the stem end and remove outer layer of onion
• Cut in half vertically through the root end
• Place cut side down on cutting board and make series of horizontal cuts ⅛" apart holding the top of the onion, without cutting all the way through the root end
• Make vertical slices ⅛" apart, perpendicular to the cuts made previously. Cut all the way down the onion using the back of your fingers as a guide
Previous Vegetable
Cabbage
Next Vegetable
Cabbage
Slice Cabbage:
• Trim the end of the root and remove tough outer leaves
• Cut in half through the root
• Quarter cabbage
• Place cut side down on cutting board, slice into thin strips
Previous Vegetable
Bacon
Next Vegetable
Bacon
Dice Bacon:
• Square off the sides of semi-frozen bacon, and then make vertical slices ¼" apart
• Stack two or three slices on top of each other
• Make vertical slices ¼" apart to form batons
• Stack batons next to each other and make perpendicular cuts, ¼" apart to make a small dice
Visit nymag.com/MeetTheManWho, and enter for your chance to win dinner for two at The NoMad and meet Daniel Humm.What Is a Sponsor Story?