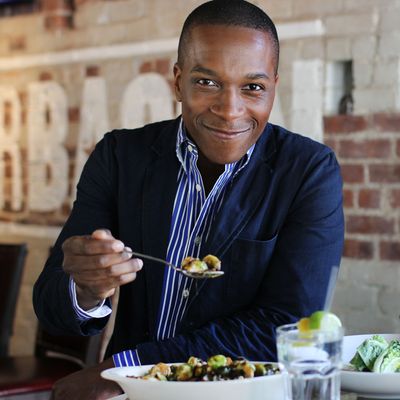 Odom Jr. at BarBacon, one of his favorite theater-district spots.
Photo: Melissa Hom
Brought to you by
Since the very well-reviewed Hamilton has made the jump from the Public Theater to Broadway, life has naturally changed for Leslie Odom Jr., who plays Aaron Burr in the musical. "We were making so little money downtown that it forced us all to cook, share recipes, and pack lunches," he says. "Now I can eat out more!" This week, in between performances and a studio recording for the show's album, Odom Jr. went out for tacos (twice), burgers, and plenty of cider — which he says is the best booze to drink after a show. He also squeezed in more than a few Oreos, Dorritos, and bites of funfetti-whoopie pie.
Thursday, August 13
I started my day with a large coffee with steamed milk from La Bergamote, which is around the corner from my home. Buying coffee every day is certainly expensive, so I try to make my own with a French press. But it's a little luxury that I sometimes treat myself to — I like the quiet walk over there. I gather my thoughts.
I had a bowl of cereal to hold me over until lunch. My favorite cereal at the moment is Honey Nut Cheerios Medley Crunch with whole-grain oats. It's perfect for me. I can only find it at CVS, weirdly enough — no grocery stores carry it. It feel like it should be named "Leslie's Bunches of Oats." It's my cereal.
I had a late lunch with my wife at Vynl, and we shared a chicken-club sandwich, tomato-rustica soup and a spicy margarita. She just got back into town from Pittsfield, where she was working all summer, and she leaves in a week for Uganda. I'm trying to get in as much time with her as possible, and squeeze in every meal and moment. We live in Hell's Kitchen, and Vynl is in the neighborhood.
I had a business dinner at Green Symphony. It's really popular in the Broadway community. What I really like to do is fill up a tin of food, eat half before the show, and eat the other half at intermission. This time, I got brown rice, chicken stew, a samosa, kale, and a lentil salad.
Water, water, water. Oh my gosh. You can never drink enough water. I just started going to physical therapy, and the guy who does it wants me to swear off coffee, because it takes the moisture out of your muscles. Not happening.
After the show, I went to Bar Centrale, which is another industry spot. My agents were in town. That sounds so Hollywood of me! I had some cider, fries, and fish tacos. Listen, I haven't met a fish taco I didn't like.
Friday, August 14
I got a large coffee with steamed skim milk from Swedish place called Fika, and then ate a bowl of oatmeal with apples, bananas, and raisins.
We don't always have rehearsal now that the show is open, but we're recording the album next week, so we had a brush-up music rehearsal from 1 to 5 p.m.
On a break, I grabbed a chicken, bacon, and avocado sandwich from a café across the street from the Rodgers theater. I also saw a chocolate-chip cookie that was too good to pass up. I shared it. My castmates never turn down a cookie.
At intermission that night, I ate cashews, a yogurt, and a banana.
At 11:55 p.m, I grabbed a $1 slice on my way home. Fresh from the oven! Since middle school, Friday is pizza day. It's hard to not to buy it every single night, though. It's a buck! I also like to doctor my pizza. I add shredded cheese, garlic, black pepper, red pepper, and then I'm good to go. My place, on Ninth Avenue and 53rd, has all the fixings.
Saturday, August 15
This was a two-show day. I started by going to Georgio's for brunch with my wife, and ate oatmeal with bananas, raisins, and brown sugar, plus crispy bacon. Black coffee.
My intermission snack was cashews and raw coconut water.
I make it a priority to make sure my grandmother gets into town for any of my important life events. She lives in South Carolina, but she doesn't like to fly, so she took the train. She stayed with family out in Queens, and I didn't get to see her at all on opening night. This was the last time I could see her. We had a little date at Angus, where I had a burger, fries, mixed greens, and mint tea.
I drank before the second show, and ate a piece of a funfetti-whoopi pie that someone baked for the cast. There are always treats backstage. Always.
After the show, I split a bottle of Aaron Burr cider with some friends who came to watch. I drink most nights after the show. I say, 80 percent of the time, I know someone in the audience, and we go out. I learned early on that drinking hard alcohol every single night can get exhausting. Every now and then, I will, but drinking cider, so far, is not as hard on my body.
Then I went to Lin-Manuel Miranda's wife's birthday party at Vice Versa. There were these little shrimp things with a dollop of guacamole. Unreal.
Sunday, August 16
We recorded the cast album today. Sundays are usually our day off, and you need it desperately after an eight-show week. I was in the studio for ten hours. You might think, because you're just singing, at least don't have to dance around. But singing requires your whole body. It's an incredibly physical day.
I started with a large coffee with steamed skim milk, and a croissant. And water, water, water.
The rest of my meals came from catering. I had my fingers crossed! Here's the line-up:
• Chicken-breast sandwich with kale, onion, garlic, and mozzarella. Doritos. Thumbs up.
• Oreos. Throat-coat tea!
• Chicken Marsala and a pasta dish with grilled vegetables. Catering was on point for the most part.
• Some custardy thing with a raspberry topping for dessert.
• More Oreos. Lots more throat-coat tea, hot water, Doritos (!!!), and red-velvet cake.
On a set, you find that it's the sugar that keeps you going. Of course it's better to do fruits and vegetables and protein. But in a pinch, an Oreo will give you 25 minutes of energy that you need to get this one moment right.
Monday, August 17
I had a big photo shoot today, and had coffee, skim milk, and cereal. My cereal!
I took a nap after the shoot. I hadn't recovered fully from the studio session yesterday.
For a late lunch/early dinner around 4:30 p.m., I went to Limon Jungle. I was starving, so I had two chicken El Dorado tacos (no cheese), one baked beef empanada, and a side of rice and beans. My wife and I go there far too often. She loves Mexican food, and I do too, but I'm second in line for who loves it the most.
Before the show, I had raw coconut water, and during intermission, a Go Macro Macrobar. Something healthy. I try.
I got a $1 slice on my way home because adulthood means that any day can be pizza day!