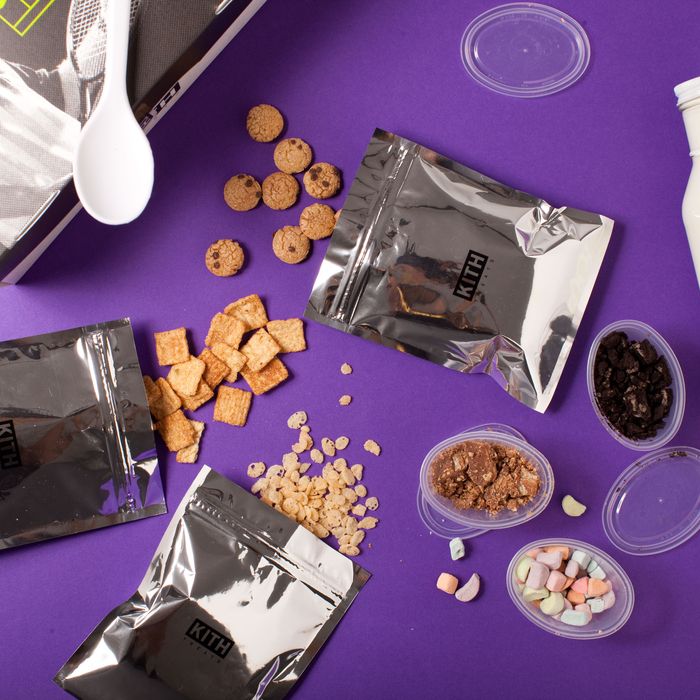 "Popular brands of cereal have the same nostalgic feel as certain sneakers."
Photo: Melissa Hom
That New York would finally get its very own cereal bar is maybe unsurprising — what took so long? — but its location is definitely unexpected.
Back in 2011, Queens-born Ronnie Fieg opened Kith, a Village store that attracts the most serious sneakerheads. This week, he expanded his business, doubling the size of his Prospect Heights shop and, alongside Baked By Melissa co-founder Danny Omari, unveiled Kith Treats, a cereal bar with 24 cereals, 25 toppings and five milk options. (There's also a vanilla ice-cream cereal swirl, which Fieg calls "really, really life changing.")
So now, Fieg is applying his obsession with aesthetics and brands to his favorite breakfast foods, and even offering celebrity-selected combinations like the "Bam Bam" by Queens rapper Action Bronson (Rice Krispies Treats cereal, Cookie Crisp, Cinnamon Toast Crunch, Kit Kats, Oreos, Marshmallow Charms, and skim milk). There's more: The cereal is served inside limited-edition mini-shoe boxes, and the milk comes in a Kith-labeled glass bottle. (With Fieg, everything is a collectible — even cereal.)
Grub spoke to him about why his concept will trump Cereality, and how sneaks and cereal both have a nostalgic quality.
How did you come up with the idea?
It was an obsession that started when I was around 12, because I wasn't allowed to eat sweet cereals at home. My mom would buy Corn Flakes or America's Choice-branded cereal, and it was a struggle for me. I had two close friends that lived nearby and one always had Kix and Lucky Charms, while the other guy had Frosted Flakes and Pops. Sometimes I would go to one of their places after school, and then the other, later on at night, just to eat cereal. I would sell my lunch to this one kid for $1, so that I could go and buy Frosted Flakes with chocolate milk. I always dreamed of a place where I could have any cereal I want, whenever I wanted it.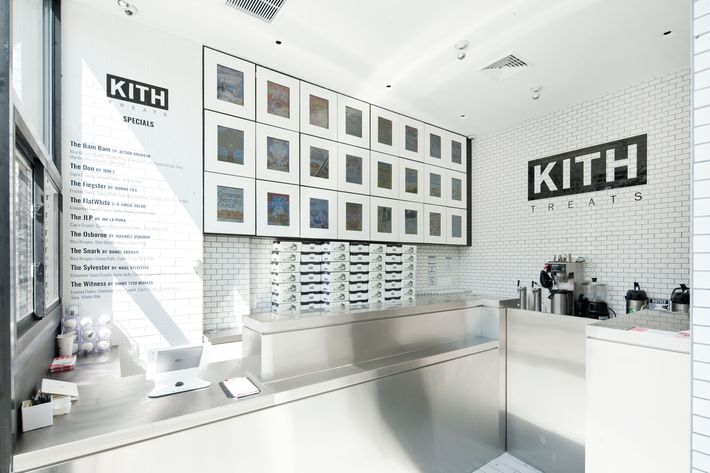 How do you expect Kith Treats to be a success after Cereality, which opened in the early 2000s, turned out be such a flop?
The truth is I was going to open up a cereal bar back in 2004. But days before we were going to sign the lease, my father called me to tell me to read a magazine story about Cereality opening in Philadelphia. It broke my heart. I drove to Philly that day to go see it, and it was very different from what I was trying to do myself. Either way, when I started researching it, I saw that the company had plans to come to New York, and I let the idea rest. After opening my own stores and having success, I had the opportunity to do it again, but do it right this time. Now I have the ability to design the aesthetic and the packaging on such a higher level than I would have in '04, so I think it really was to my benefit that it didn't happen then. I don't know the current state of Cereality, but this is completely different from what they did. It's in a different environment and geared towards a different crowd.
In what ways?
I have a retail shop that caters to an elevated market of people who buy things to be different. Almost all of the things we carry in the shop are limited products. That's kind of the approach we took with the cereal too — like how we work with brands to create limited-edition boxes every six weeks, so the boxes become collectible. Also, when you buy the cereal, you get a proof of purchase ticket — because back in the day, when you would buy a cereal box, you used to have to cut out the UPC proof of purchase and mail it in to get a gift.
Right now, we have Nike-designed boxes, and if you buy four bowls of cereal in the next six weeks, you're able to bring in those tickets and redeem a Nike-Kith tennis ball encased in a plexi-box. It's a collectible tennis ball that we designed together. That's been a huge hit for us.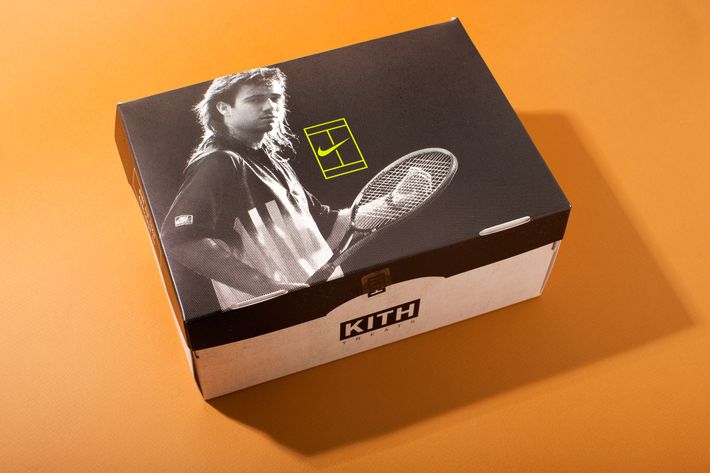 How can cereal be a lifestyle product, like sneakers?
Popular brands of cereal have the same nostalgic feel as certain sneakers. A lot of the really great styles that resonate with the kids from Nike or Adidas are retros from when we were kids. Cereal plays the same role. When you have certain cereals it reminds you of when you were a kid. Cereal brands resonate in the same way to the sneakerhead kid who collects sneaker brands. It's just one of those common denominator things.
It's like when the rapper Tyler, The Creator used to tweet things like "If You Like Me, Bring me Some Waffle Crisp To One Of The Shows. I Like That."
I've never met anyone who didn't like cereal. It's one of those things that you love growing up, and then when you get older you end up having it because you want to feel like a kid again. For me it's never been about being like a kid again, though. I've just loved cereal my entire life. It's weird.
How often do you eat it?
I had to quit for a while around 2007. It was getting out of hand. I was a grown man, 25 years old, and I was eating cereal all the time. My friends and my girlfriends would make fun of me. I was like, maybe I should eat real food for a little while and see what happens.
And what happened?
I started travelling and I went back to eating a lot of cereal because I wanted to taste Frosted Flakes in every country. Every country has their own version with different names like Sugar Flakes or Frosties. European Frosted Flakes taste a little less sweet, there's less sugar in them, and I think the flakes taste different too. I started collecting Frosted Flakes boxes from Tokyo, London, Israel.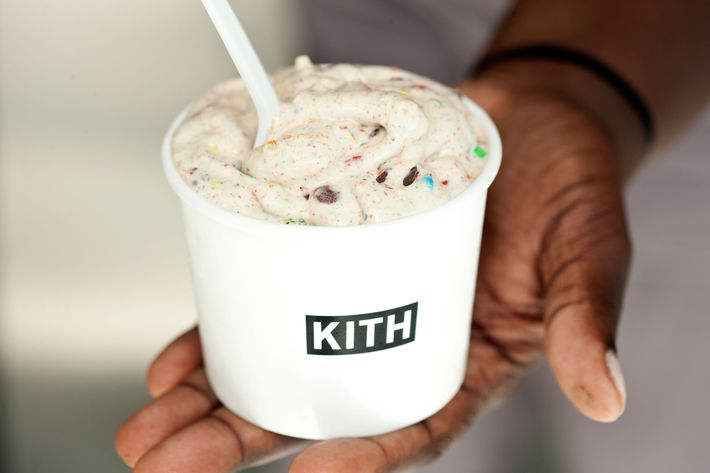 Do you think there is the cereal equivalent to the Yeezy Boost sneaker? People will do anything for a pair of those.
That's a weird and difficult question. I don't compare cereal to one specific model of a shoe.
Well, like, last year they came back with French Toast Crunch. Are there any rare or discontinued cereals that you'd like to bring back?
We have Rice Krispie Treats cereal, which is kind of rare. I'm not a big fan of the French Toast Crunch because I love Cinnamon Toast Crunch so much that it's like, Why have the sequel when you can have the original?