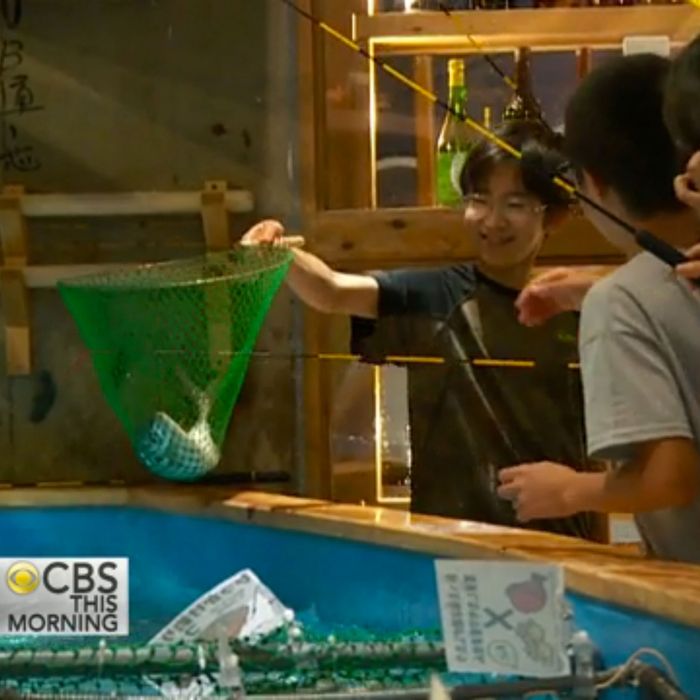 Although the notion that fresh fish is always better was long ago established to be a big myth, the idea still persists among many diners. And lucky for them, a restaurant in Japan is just begging for their exacting patronage. Zauo, a chain of "fishing restaurants," lets brave customers hook a still-wriggling fish from one of several massive aquariums, and, mere minutes later, that fish becomes sashimi on their plate.
"Tanks are stocked with mackerel and flounder and sea bream, swimming around with no idea how close they are to the kitchen," CBS News' Seth Doane wryly notes after wandering through Tokyo's Shibuya location. "It looks like pretty decent odds."
Customers who catch their own dinner get a discount, but non-outdoorsy types might be better off cutting their losses — as one past patron explains, customers have to buy bait for a couple of bucks, and if their fish-targeting isn't so great, they may hook a $30 flounder instead of the cheapo sea bream, and "there's no such practice as 'catch and release' here." Also, manager Junichi Yoshida tells CBS he finds it's better if they ask customers not to flail the rods and hooks around wildly in the air, but instead to go for more of "a gentle dipping motion."
And yet the best line in the entire story may be the last: "The restaurant is planning a New York City location next." It turns out a similar bit of info popped up a few months ago, too, when word got out that Zauo officials were planning a fact-finding trip to New York last April. This would seem to indicate that those plans are still on the table (Thank goodness! you're no doubt thinking), although there's very little information other than that — but you just know the Health Department is going to love this one.
View More: Strange News|Live News|More News Videos
[CBS]