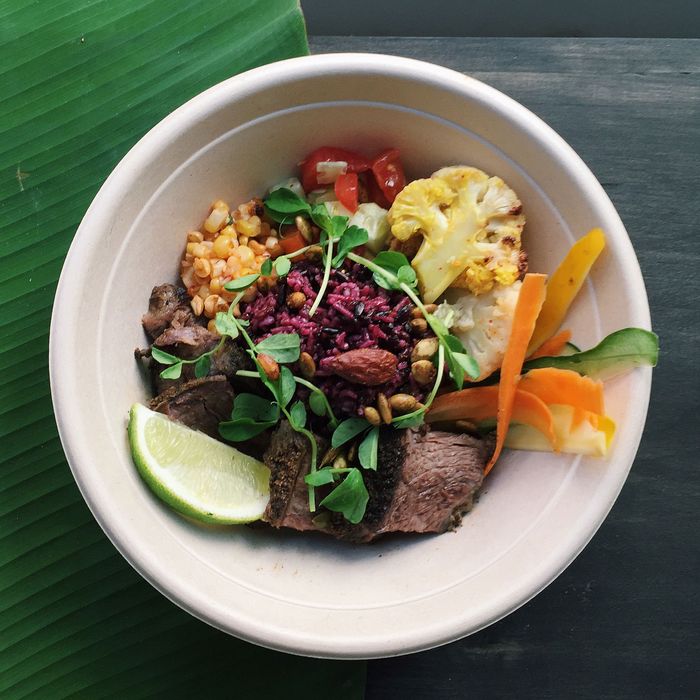 It is tempting to compare every new fast-casual outlet to Chipotle, but Basu Ratnam would really rather you didn't do that with his new Inday, an Indian-inspired counter-service spot opening this week in Nomad. Yes, there are grain bowls. And wraps. And you can choose your (hormone-and-antibiotic-free) protein and your base. But for Ratnam, a former finance guy and first-time restaurateur, there's no comparison. "Inday is the evolution from that," he says. "We're more composed meals, a little more restrained and distinct." If he finds culinary inspiration anywhere, it's not in the 1,700-unit quick-Mex juggernaut, but in a single-location hot spot downtown. "We're closer to something like Dimes," he says. "Seasonal, ingredient-driven." And also, he hopes, young and hip — a demographic the 28-year-old entrepreneur is targeting with his menu, interior design, neighborhood, and philosophy.
Inday is a play on "India every day," and Ratnam believes that now is the perfect time for this particular enterprise. We are living, after all, in a vegetable-centric age, with simultaneous, and sometimes competing, desires for balanced nourishment and exotic flavor — "what Indian food's been about for hundreds of years," he says. Not that the category isn't ripe for change: Ratnam envisions a lighter, cleaner, more accessible, and updated style of cooking, something not far from the food his Calcutta-born mother cooked when he was growing up — rooted in her heritage, but shaped by the seasonal approach of Californian cuisine and accented by worldly flavors.
This might have all remained the hunger-spiked musing of a restless private-equity investor, but fate intervened. Two years ago, Ratnam found himself seated at a dinner party next to restaurateur Phil Suarez, a partner with Jean-Georges Vongerichten in roughly three dozen restaurants, including ABC Kitchen and the flagship Jean-Georges. Ratnam described his vision persuasively enough for Suarez to sign on as a lead investor. (Also on board is Irwin Simon, founder of Hain Celestial Group, purveyor of FreeBird organic chickens, Spectrum Naturals oils, and Tilda basmati rice, all of which can be found in Inday's kitchen.)
Take a look at the menu and the space, which opens officially on Wednesday for lunch from 11 a.m. to 3 p.m.; extended hours begin next week (until 10 p.m.).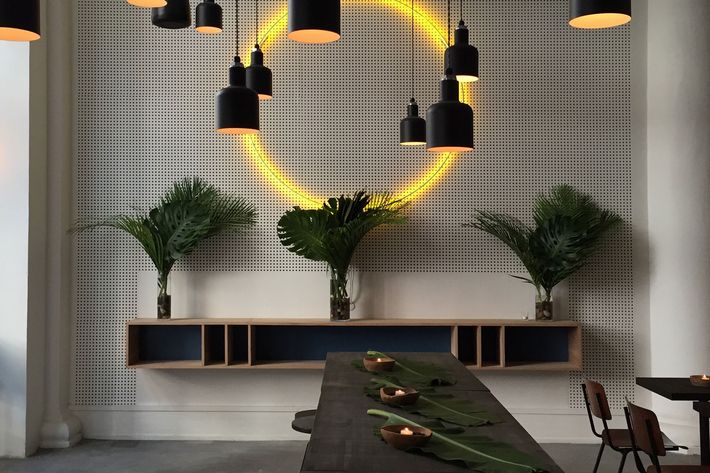 Inday menu [PDF]
1133 Broadway, entrance on 26th St.; 917-521-5012