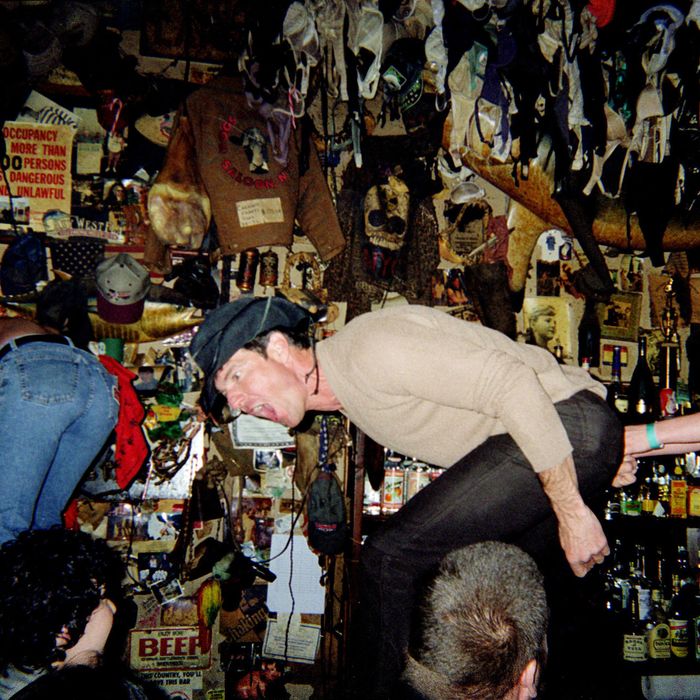 Dennis Quaid enjoys a quiet night out on the town.
Photo: Carlos Navidad/Retna Ltd./Corbis
When I first moved to New York City in the late '80s, I did what most downtown-pulse-seeking arrivistes on a budget did: I started in Alphabet City, where there were still affordable sublets and apartments (of which I went through four in all); then fled to Soho, where the galleries soon migrated out due to astronomical rent increases, making way for so many Banana Republics and J. Crews. Where was a young-ish journalist who always romanticized the gritty burnt ends of Manhattan to go? I made my way to the Meatpacking District, looking for a commercial loft where I could illegally reside, gazing out on a gritty urban tundra replete with abandoned train tracks, a looming Marlboro Man billboard, incoming lamb-and-cattle carcasses, and hookers shitting in the snow.
Eventually, one rainy afternoon while playing hooky from writing infantile headlines about celebrities, I fell upon Hogs & Heifers Saloon, the honky-tonk-cum-weekend biker bar on the corner of West 13th and Washington Street. The patronage back then was almost exclusively what'd you call a white-apron day crowd, meatpacking and processing workers who slunk into the bar when their shifts, which began at 4 a.m. or earlier, were done. The corner of Washington Street was still slicked with offal matter, and the guys would show up at the bar still wearing their bloodied bibs. Dumpsters were marked with warning signs: "Not Edible."
Times, alas, have changed. There's an Apple Store and Hogs will close in a couple days, after 23 years of hosing down guys in neckties (verboten), and seeing countless bartenders two-step it on the bar with besotted female customers (not to mention some Irish jigging by Sir Paul McCartney). Rent, of course, is the reason. The bar's owner, Michelle Dell, pays $14,000 a month. She told the Daily News that new landlords are now demanding $60,000. Marc Jacobs might be able to pay that, but it isn't an option when you're still selling PBR for $3 a pop. Needless to say, the Whitney crowd hasn't been flocking to fill up Hogs' bar stools.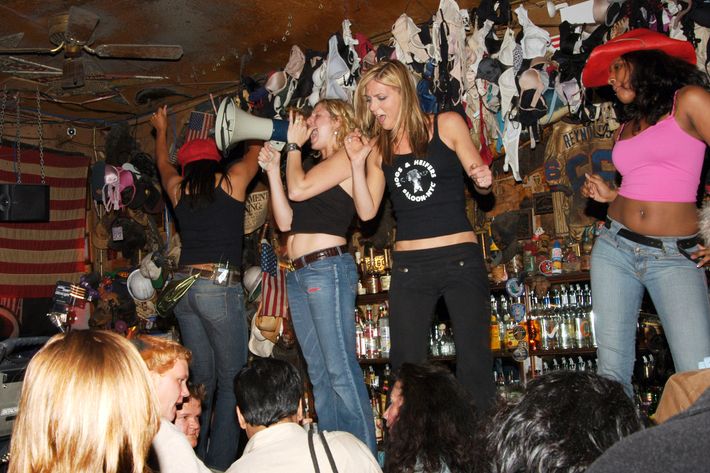 Most old-school dive bar enthusiasts are still lamenting the losses of so many swill houses — Village Idiot, Siberia, Downtown Beirut, the original version of the Holiday Cocktail Lounge, Mars Bar, and, most recently, Soho's Milady's, among them — and over the past decade Hogs & Heifers had become a slumming-it tourist attraction. Even bistro kingpin Keith McNally was forced to close Pastis, so it's a surprise the saloon's demise didn't come sooner. (Pastis will return in 2017; it's safe to assume Hogs won't.)
The bar was quietly opened in 1992 by Allan Dell, a self-described "Jewish redneck" who had one working eye, an asthma inhaler, and a dream. I first met him sitting outside the bar, where he was perched in a rocking chair, talking to tough-looking types. Immediately I found Allan engaging, a true character, and a wonderfully un-PC wingman of sorts, telling salty anecdotes with his raspy voice, his face masked with scraggly hair, thick eyeglasses, a ginger beard, and a black cowboy hat. When he learned that I was a journalist, who might have an agenda, he went on to tell me how "everyone" was welcome at Hogs.
Inside, the red-lit, stale-air 1,000-square-foot space was dominated by a gummy runway of a saloon bar, and it was as cold as a meat freezer, owing to a lack of heat. But the thermometer gradually went up, as the downtown crowd began to catch on to its appeal, with the jukebox blasting all those classics by the Men in Black, country outlaws like Waylon, Willie, and Johnny — guys Dell admired. Hogs was a shoestring-budget affair, despite the fact that Allan's father owned a successful commercial editorial service, and his mother was a school teacher who hosted author signings in the Hamptons, where the Dells owned a summer house. No matter, Allan was Allan, and in the first year, he slept in the basement to secure the fort and save money. "I think he got his German shepherd, Harley, for warmth and company at night," says Allan's sister Felisa. "Allan was fearless, so my parents weren't worried about his safety, just him succeeding."
The Meatpacking District, then, felt like the last holdout zone of debauchery in the city. Opposite Hogs was the recently opened Jackie 60, a late-night dance-party bacchanal that hosted every incarnation of freak, as well as the downtown luminaries who followed along for street-cred inspiration. There were more than a half-dozen underground gay and fetish clubs: the Mineshaft, the Lure, the Vault (which advertised loud and proud across an entire building façade), and B&D; dungeons such as the basement Hellfire Club. There was always a dull thunder of music and gaiety. Strangers gave and received blow jobs in closed storefront entranceways. Transgender sex workers in leopard-print tights, cami tops, and dirty sneakers trawled the terrain (often carrying box cutters for protection, or for mugging). And Florent, the late-night diner, was the respite for all of them: a curiosity shop of the hungry and wired, like a weirdo version of Hopper's "Nighthawks."
Actor Dean Winters (you know him as Mayhem in the Allstate ads) remembers all the time he spent there: "We shot Oz around the corner, and we'd go with the crew to Hogs & Heifers every Friday night … My brother Scott, who was a boxer and has incredible upper body strength, was one of the first if not, the first, to climb the stripper pole there. I was pretty convinced they greased it. When I was still a bartender, I always wished that my bars were as cool as that. One night, there was an all-out brawl in front of Hogs between six off-duty New Jersey cops and some firefighters and the producer of Oz and some of the crew. Incredible, right in the middle of the street."
One unlikely friend of Allan's was Cheryl Dunn, a noted Manhattan gallery-showing photographer and filmmaker. "If you could hang, they let you hang," Dunn says of Dell and his crew. That was the vibe at Hogs & Heifers, too. "You didn't go there to sit quietly in the corner and drink a beer," she says. "You entered a bawdy, rowdy vortex reminiscent of the best bars in New York's history."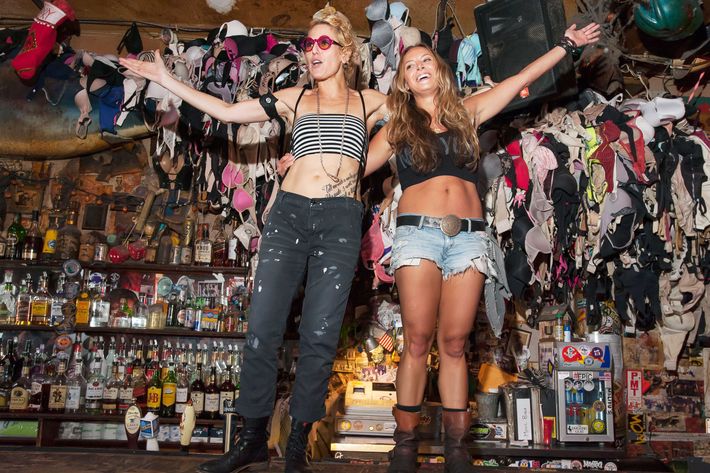 Soon I began bringing reporter friends and surprise-me dates there to give them a taste of my best-kept secret. It became the one-two punch on weeknights, barhopping from Hogs to the even nastier Village Idiot. A couple years in, Allan helped me secure a raw high-ceilinged space upstairs in the building. I'd take my baths in an industrial sink, then head downstairs to see what was up at Hogs. There was puking and punching below. And a true sense of accepted warmth that grew from the initial wariness Allan's other friends felt about me. I got it: Who'd want a reporter living above you? We were Mutt and Jeff, and it worked for me. Presumably for him too.
After a while, the media caught on, celebrities showed up, Allan's operation grew to lines outside the doors. With the crowds came a diluting of what made it special: true grit. It was a bona fide urban saloon, where you left civility outside the door.
On June 7, 1997, Dell died in his apartment, age 31 going on 50. There was talk of a drug overdose, even rumors he'd been murdered. The funeral procession, led by Allan's Bronco, was accompanied by a New York City police department motorcycle escort. Loudspeakers were set up outside the funeral home so that the crowds in the hundreds, from bikers to society figures, could hear the eulogies. I was one of the speakers. There were more laughs than tears. Then a bar crawl ensued, including stops at the Raccoon Lodge and Allan's bar.
Since Allan's death, his wife Michelle Dell has owned Hogs. A Bennington student who grew up in the West Village, the country music fan first walked into the dive in 1992, asking for a bartender job, and it grew into a relationship. She ultimately helped set the yee-haw tone of the space, two-stepping on the bar in custom-designed leather-and-fringe ensembles, American flag bikini tops and cowboy boots, heckling the well-dressed and pouring shots down the throats of the uninitiated. The bar-dancing routine — blatantly lifted by clone saloons like Coyote Ugly — originally came about when Michelle was simply trying to stay warm.
Some people may sniff that Hogs became a parody of itself a long time ago, but its closing is also quite nearly the final nail in the coffin of the rough-hewn scene that once thrived — and offered cheap beer, along with cheap laughs, in the City That Sleeps a Lot More Soundly These Days. Big snore.